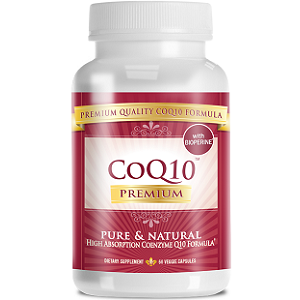 CoQ10 Premium - Does It Work?-Review
What is CoQ10 Premium?
The following is our review of CoQ10 Premium. Its goal is to help improve your cardiovascular health and regulate your blood pressure. This supplement is made form pure ingredients. It is also doctor-formulated and recommended. This product complies with the U.S. Pharmacopeia's standards for quality and purity. Continue reading for our full review.
Ingredients & How It Works
Coenzyme Q10– 250 mg
Bioperine – 10 mg
CoQ10 is an essential coenzyme containing natural powerful antioxidant properties that aid in cell growth and renewal. The ingredients are natural substances that fight oxidative stress and prevent tissue damage. The ingredients assist in improving heart health by increasing blood flow, protecting cognitive health, slowing the effects of aging, reducing hypertension, and improving metabolic functions.
Daily Serving
It is recommended to take 2 capsules per day. You should take 1 capsule in the morning, and 1 in the afternoon for optimal results. A bottle will last you a month.
The Cost
CoQ10 Premium is sold in a bottle of 60 capsules for $48. There are also options to buy it in bulk to save money. You can buy 3 bottles for $30 each, 4 bottles for $28 each, and 6 bottles for $23 each. The best deal is obviously the pack of 6. It is more than a 50% saving than if you bought just one bottle at a time. As you can see this product is very affordable.
Guarantee
The manufacturer offers a 90-day money-back guarantee. You have 90 days from your date of purchase to return opened any opened and unopened bottles for a full refund not including shipping and handling. You must first contact customer support requesting a return number. This is an extremely strong guarantee, not only does it give the customer plenty of time to see if the product works, but it also allows the customer to actually try the product and still qualify for a full refund.
Our Review Summary of CoQ10 Premium
After doing a lot of research about CoQ10 Premium, we see that this is a high quality product with the best ingredients. This product provides you with the optimum amount of coenyzme Q10 and bioperine which will give you the best results. This product was made and recommended by doctors. There are also major discounts if you buy it in bulk, which makes this product very affordable and very worth it. The strongest component of this product is its guarantee. It speaks volumes of the product's effectiveness. It shows us that the manufacturer has a ton of faith in their product's effectiveness. It also allows the customer to feel confident in their purchase. We don't think you will need to use the guarantee though. This product also comes with a Good Manufacturing Practice stamp of approval. We believe that this is a great product.
Well researched reviews, from the experts at Research & You.