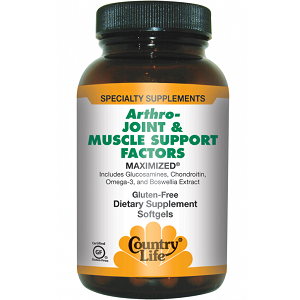 Country Life Arthro-Joint & Muscle Support Factors - Does It Work?-Review
What is Country Life Arthro-Joint & Muscle Support Factors?
Today we review the product Arthro-Joint & Muscle Support Factors manufactured by Country Life. This product was specifically made to help ease joint pain and discomfort. It is a nutrient-rich complex which provides additional support for bone, cartilage, tendons, joints and membranes. This supplement helps to improve your quality of life by helping to improve your mobility. If you suffer from broken down joints caused by arthritis or osteoporosis and you want to know more about this product, read the rest of this review below.
Ingredients & How It Works
Boswellia Serrata Extract
Omega-3
Glucosamine
Chondroitin Sulfate
Poly-NAG
Green Lipped Mussel Extract
CMO  
Gamma-Linolenic Acid
Boron
C Vitamin
E Vitamin
Manganese
Soybean Oil
Gelatin
Glycerin
Beeswax
Purified Water
Sunflower Lecithin
Carob
Titanium Dioxide
Fish
Shellfish
This product contains a list of natural ingredients that claim to support joint and general muscle problems. It also aids pain and discomfort by drawing on the anti-inflammatory properties of some of the ingredients. This product contains fish and shellfish so allergic reactions may occur in people who are sensitive to these ingredients. This product contains no yeast, wheat, gluten, milk, sugar or preservatives.
Daily Serving
It is recommended that you take 3 softgels per day or as directed by your doctor. It is important to consult your doctor before taking this supplement if you are pregnant, nursing or if you are taking prescription medication for a serious medical condition. If any adverse reactions occur, discontinue using this supplement immediately.
The Cost
You cannot purchase this product directly from the manufacturer's website, but it is available online and in stores from various retailers. Each bottle contains 60 soft gels so it is unlikely that a bottle will last you the month, however, at a price of $16.19 at some retailers it is still one of the best-prized supplements when looking at joint support.
Guarantee
Unfortunately, we were unable to find any money-back guarantee on the manufacturer's website, which means that the customer will have to rely on the various retailers' guarantee policies if they want to play it safe when buying this product. This also makes us question if the product is any good at relieving pain and supporting joint health.
Our Review Summary Of Arthro-Joint & Muscle Support Factors
We like that this product incorporates an impressive range of natural ingredients. We also like that this supplement is priced so reasonably, making it affordable for everyone to make their health a priority. However, one would have to be careful with this product if you are allergic to seafood. We are also very disappointed in the lack of a decent guarantee to back all the promises made regarding the performance of this supplement. It is also quite impractical that one bottle will not even last you the month, meaning that you would have to buy multiple bottles at once just to make sure your joints get the support that they need throughout the month. Considering that this product contains fish we are also assuming that it is not vegan-friendly.
Well researched reviews, from the experts at Research & You.