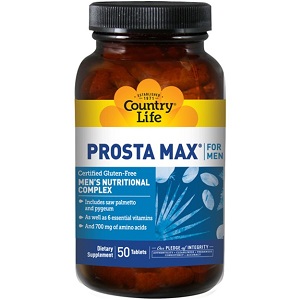 Country Life Prosta-Max For Men - Does It Work?-Review
What is Country Life Prosta-Max For Men?
This is a review of the prostate support supplement Prosta-Max For Men, manufactured by Country Life: This manufacturer claims that this product aims to remove the symptoms linked to an unhealthy prostate. It is claimed to offer the nutritional support men require to help resolve a swollen prostate, while enhancing the overall health of men.
Ingredients & How It Works
Two tablets provide:
Vitamin A
Vitamin C
Vitamin E
Thiamin
Riboflavin
Vitamin B6
Calcium
Zinc
Copper
Glycine
L-glutamic acid
L-alanine
Vegetable phytosterols
Saw palmetto
Pygeum
Stinging nettle
Lycopene
Other inactive ingredients: cellulose, stearic acid, silica, magnesium stearate, cellulose and glycerin coating, vegetable glaze. This formula contains many of the substances known to be effective in maintaining a healthy prostate, and it contains many notable antioxidants that offer more benefits than simply supporting the prostate. However the ingredients beta sitosterol, muira puama, and quercetin are absent from this formula. This means that this is not a total solution supplement; and that other elements would need to be added to cover what this supplement lacks.
Daily Serving
The recommendation is that male adults should take two tables each day before eating a meal.
The Cost: This product is not be bought directly from the manufacturer but is available on third-party sites such as Amazon at $35.56 (200 tablets). The manufacturer offers no discounts, nor any package deals on this supplement.
Guarantee
This product is manufactured within a GMP certified facility, which means what is on the label is in the bottle. It does not automatically follow that these tablets will be effective, nor that the manufacturer guarantees this.
Our Review Summary Of Prosta-Max For Men
The supplement Prosta-Max For Men may well be effective at supporting a healthy prostate. This is a product that has been made within a GMP facility, indicating quality production. In addition, the dosage instructions are clear enough for users to obtain optimal results. However, this product lacks a guarantee. This could imply that the product is ineffective. More so, there are no discounts nor package deals which would have made this product more economical, especially over the long term (this is after all a long-term-use product). Certain ingredients have, however, been omitted from the formula, maybe owing to cost. This product may therefore not be the total solution by which men can maintain their prostate health. However, there are other, similar products on the market currently that contain a more holistic formula, backed by a guarantee, and presented in package deals with discounts. Such deals would save the purchaser money over many years. This product does not offer all those aspects in one. This raises certain questions as to whether this is really a good supplement to invest in, for best health.
Well researched reviews, from the experts at Research & You.