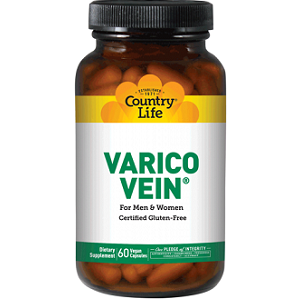 Country Life VaricoVein - Does It Work?-Review
What is Country Life VaricoVein?
The below is an informative product review for Country Life VaricoVein that will bring you all the real facts. The manufacturer of this product claims that it will beneficially encourage vein health by supporting vein structure and tone and also claims that it is suitable for both men and women to use.
Ingredients & How It Works
Vitamin C - 200 mg
Diosmin - 900 mg
Natural Orange Extract - 112 mg
Grape Seed Extract - 100 mg
Vitamin C is crucial for the proper development and function of numerous parts of the body including the maintenance of correct immune function. Diosmin can be used to treat various kinds of disorders of blood vessels such as hemorrhoids and varicose veins, it may reduce inflammation and help restore normal vein function. Natural Orange Extract may help treat high blood pressure and is also beneficial as an antioxidant. Grape Seed Extract may assist with high blood pressure and swelling in the legs caused by poor circulation.
Daily Serving
The manufacturer recommends that adults should take two capsules per day with meals and additionally advises taking one capsule in the morning along with breakfast and the second capsule in the afternoon along with lunch for best results. It is also suggested that you should consult a healthcare practitioner prior to the use, as with any medications. Unfortunately, research confirms that most of the ingredients used can cause side effects which include stomach pain, abdominal pain, diarrhea, dizziness, headaches, hives, muscle pain, altered heart rate, nausea and vomiting which is disappointing and concerning.
The Cost
You can purchase this product online from third-party retailers such as Amazon where one bottle containing 60 capsules will cost you $29.44. There does not seem to be any discounted options available for this product although, some alternative retailers might offer discounts.
Guarantee
We found no money back guarantee for this product on the manufacturer's website which is extremely worrying because this shows a lack of confidence and it also raises questions regarding the quality standards and the effective results that this product may be able to offer if it has not been backed by a guarantee of any kind.
Our Review Summary Of Country Life VaricoVein
This product does seem to use some good ingredients that could be beneficial and it also has clear dosage instructions provided which may imply that it is a fairly alright product. Although most of the ingredients can potentially cause a list of various side effects, the manufacturer has not backed this product's claims with any kind of money back guarantee and there are no customer reviews available either and therefore, you should rather consider a more suitable product available from leading brands that have proven to be effective.
Well researched reviews, from the experts at Research & You.