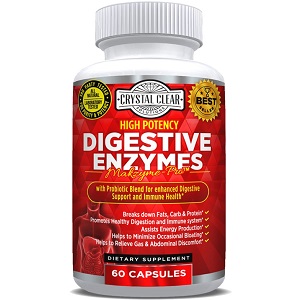 Crystal Clear Solutions Digestive Enzymes - Does It Work?-Review
What is Crystal Clear Solutions Digestive Enzymes Supplement with Probiotics?
The supplement Digestive Enzymes Supplement with Probiotics has the goal to assist with the symptoms of Irritable Bowel Syndromes (IBS) - namely gas, gluten intolerance, lactose intolerance, bloating, diarrhea and constipation. Also, to digestion of food, but also to lessen any stomach uneasiness. In this review, we will concentrate on these claims and assess if this product is truly the best.
Ingredients & How It Works
Amylase
Protease
Lipase
Cellulase
Bromelain
Lactase
Bromelain
Pancreatin
Papain
These enzymes help to breakdown alcohol, fatty acids and amino acids. In terms of the amino acids allows these nutrients can be absorbed easier. Also, the enzyme amylase assists with the breakdown, as well as absorption of carbohydrates. Whereas lactase helps to breakdown dairy products as well as milk sugars. The enzyme papain breakdown protein fibers such as red meat and pork. The other enzymes such as glucoamylase, bromelai, and cellulase breaks sugars up into small more easily digested parts so they can be used for energy.
The inactive ingredients are cellulose (vegetable capsule), vegetable magnesium stearate, and silicon dioxide
Daily Serving
The manufacturer's recommended dosage is to take one (1) capsule twice daily, 20 to 30 minutes before a meal. Alternatively follow the instructions of your health care provider. Not meant for anyone below 18 years of age. Pregnant and nursing women, and anyone on prescription medication should consult their health care provider before using this dietary supplement.
The Cost
The manufacturer offers this supplement on their website for consumers to purchase. A bottle containing 180 capsules has a purchase price of $12.00 (discounted from $55.00). No other discounts or bulk offers are available.
Guarantee
The maker offers a 100% satisfaction guarantee on their dietary supplements. This means that if you are not content with the supplements you can get a 100% reimbursement. They do not ask any whys and wherefores, but the lack of this data could mean that if people are returning the product, the manufacturer lacks the knowledge to what could be wrong with the supplements to make changes to improve this dietary supplement.
Our Review Summary Of Digestive Enzymes Supplement with Probiotics
Digestive Enzymes Supplement with Probiotics is an all-natural product, packed with enzymes which has the goal to help with digestion and absorption of nutrients, and to manage the symptoms associated IBS. It is also backed by a full money-back guarantee, which allows you to get your money back if you aren't gratified with this dietary supplement.
We should also comment that your research outcomes found some worries about this product. At the outset, this supplement does not contains key anti-inflammatory and soothing ingredients such as psyllium, peppermint oil, turmeric, aloe vera, fennel oil, and even ginger root could have assisted to relieve digestive issues. Secondly, with only two reviews on the manufacturer's website, this lack of an abundance of positive reviews for this supplement that otherwise could have detailed consumers' experiences when using this product. However, this data is strangely missing.
Well researched reviews, from the experts at Research & You.