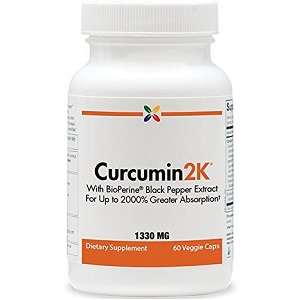 Curcumin2K - Does It Work?-Review
What is Curcumin2K?
The following Curcumin2K review looks deep into the facts associated with this product. Curcumin2K is a turmeric supplement that has high-quality levels of curcumin to help protect the brain. The product is made from a turmeric root extract and also contains black pepper extract, Bioperine. The black pepper extract contributes to increasing the absorption of curcumin into the bloodstream. Curcumin2K when taken, helps to improve mental clarity, boost mood, and protects joints. The product is manufactured in an FDA-inspected facility and does not contain yeast or gluten.
Ingredients & How it Works
Curcumin2K includes the following ingredients:
Turmeric Root Extract - It is the main component of this product, and it is standardized to offer a minimum of 95% curcuminoids. This ensures it protects your brain, joints, heart, and every cell in your body for a lifetime of health and added comfort.
Bioperine Black Pepper Extract - It has been proven to boost curcumin absorption amount in the body by 2,000% through the prevention of its breakdown in the liver and the small intestine.
Cellulose - It works to help regulate blood glucose levels.
Dicalcium phosphate - It is a dormant ingredient that makes the capsule easy to handle.
Stearic Acid and Vegetable Magnesium Stearate - They work to help the tablets emulsify and break apart appropriately.
There are no reported side effects.
Daily Serving
Curcumin2K is packaged in containers of 60 veggie capsules which is a one-month supply. Since it is an herbal dietary supplement, it is recommended to take two tablets once a day. The capsules should be taken along with meals. The product is intended for adult use only. Pregnant women or nursing mothers are warned against using it before consulting a medical professional.
The Cost
The price of one bottle of Curcumin2K that contains 60 capsules costs $28.50 plus free shipping and handling. Customers purchasing three bottles of the product may buy it at $71.85 with each bottle costing $23.95 plus free shipping. The manufacturer offers a special deal for $19.95 per container plus free shipping. The manufacturer also offers attractive discounts for its standing customer.
Guarantee
Curcumin2k comes along with an offer of a 365-day money back guarantee to enhance its customers' experiences. It means customers have 12 months to assess the results of this product. If you are not satisfied with the results, the manufacturer guarantees a full refund at any time during the year from the date of shipment. Customers should include their contact information when returning the product.
Our Review Summary of Curcumin2K
Based on our research, we found out that Curcumin2K is a useful mental clarity improvement product. It contains high-quality ingredients that protect every cell in the body. It is FDA approved and meets the US Pharmacopeia (USP) purity, quality, and potency standards. The positive reviews on the website confirm the satisfaction of many customers, a good indication that the product is efficient and safe to use. However, the manufacturer offers limited information on product's usage.
Well researched reviews, from the experts at Research & You.