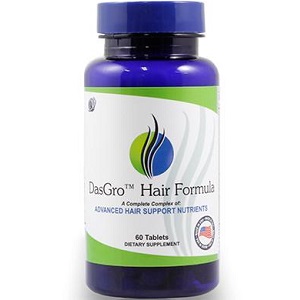 DasGro Hair Formula - Does It Work?-Review
What is DasGro Hair Formula?
Today we review DasGro Hair Formula. This product claims to help you naturally enhance hair growth, and to optimize the health of your hair. Each capsule contains 4000 mcg of Biotin, minerals and vitamins which helps to support circulation of your scalp, and aid overall nutrition absorption of your hair. This supplement can be used by both women and men. If you need a supplement to help liven up dull and unhealthy hair and this product interests you, read the rest of our review below.
Ingredients & How It Works
Vitamin A
Vitamin C
Vitamin E
Vitamin B1
Vitamin B2
Vitamin B3
Vitamin B6
Folic Acid
Biotin
Pantothenic Acid
Calcium
Zinc
Copper
Choline Bitartrate
Silica
Inositol
Para-aminobenzoic acid
L-Cysteine
Methylsulfonylmethane
Ginkgo Biloba
Saw Palmetto
Pygeum Africanum
Green Tea
Grape Seed
The ingredients in this product help to support the structure and overall strength of each hair strand with the help of Biotin, which helps to produce keratin. The vitamins and minerals in this product help to improve circulation and skin of the scalp, and help to keep your hair moisturized and nourished. The antioxidants found in Ginko Biloba and Green Tea improves overall health, energizes cells and also helps to eliminate harmful substances. Silica also helps to provide the hair with a solid structure, and minimizes breakage. This product contains no starch, sugar, artificial color or preservatives but it does contain soy. It is not stated whether this product is vegan or vegetarian friendly.
Daily Serving
It is advised that you take 2 capsules daily with meals. One can be taken in the morning and the other in the evening and should be accompanied with a glass of water.
The Cost
You can order this product directly from the manufacturer's company. One bottle, containing 60 capsules, will cost you $39.97, three bottles will cost you $94.97 and six bottles will cost you $147.97. If you buy three bottles or more then you will also not have to pay shipping fees.
Guarantee
This product comes with a 90-day guarantee if you find yourself unsatisfied with DasGro Hair Formula. You can return opened bottles and you will need to return all bottles to be eligible for a refund. You will not be charged a restocking fee or a shipping fee.
Our Review Summary Of DasGro Hair Formula
The guarantee on this product is superb, seeing as you don't even have to pay a shipping fee when returning the product. This product also incorporates a lot of natural, healthy ingredients and is free from artificial ingredients or colorants. Unfortunately, this product does contain soy, so allergic reaction may occur in certain people. Price wise we have seen better so this product is definitely on the expensive end of the spectrum, but if you buy in bulk you might save a dollar or two. We are also not very impressed with the fact that this product is not vegan or vegetarian-friendly. This makes us question if the ingredients used is really that organic especially if you compare this product to similar supplements currently on the market that explicitly state that they are vegan-friendly and cruelty-free.
Well researched reviews, from the experts at Research & You.