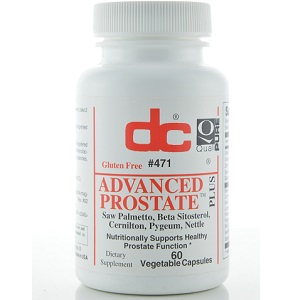 DC Advanced Prostate Plus - Does It Work?-Review
What is DC's Advanced Prostate Plus?
The following is our review about the prostate support supplement Advanced Prostate Plus: This supplement is manufactured by DC, also known as Dee Cee Laboratories Inc. This company claims that their supplement, with its selected ingredients, is able to effectively support a healthy prostate function. Read our review for more.
Ingredients & How It Works
Two capsules provide:
Vitamin D3 (as cholecalciferol) (400 IU)
Vitamin E (as d-alpha tocopherol) (100 IU)
Zinc (as zinc citrate) (15 mg)
Selenium (as selenomethionine) (20 mcg)
Copper (as copper gluconate) (2 mg)
beta sitosterol complex (134 mg)
Cernilton flower pollen extract (60 mg)
Green tea extract 40% polyphenols (leaf) (60 mg)
Lycopene (5 mg)
Pumpkin seed 4:1 (40 mg)
Pygeum extract (bark) (200 mg)
Red clover 4:1 (flower) (2.5 mg)
Saw palmetto ext. 45-55% sterols (berries) (320 mg)
stinging nettle 4:1 (leaf) (170 mg)
The other inactive ingredients vegetable cellulose, vegetable magnesium stearate, and silica. Vitamin E with selenium assists to inhibit the development of prostate cancer, whereas vitamin B3 increases the overall health of the prostate. The mineral copper helps to slow down the progression of a tumor. Zinc, lycopene, as well as green tea may help prevent prostate cancer. Beta sitosterol and stinging nettle not only lower cholesterol, but, in conjunction with pumpkin seeds could help to treat benign prostatic hyperplasia (BPH). The elements red clover, Saw palmetto, and Pygeum bark extract are anti-inflammatory agents.
Daily Serving
The manufacturer recommends taking two (2) capsules per day with a meal.
The Cost: This product is available to purchase on the manufacturer's website. However, any potential buyer needs to sign up and provide the company with their personal details simply to view the price of this product. If the consumer decides not to buy this product after viewing the price, the company retains their personal details. A 60-capsule bottle normally retails at $48.00, according to our research. No discounts nor package deals are offered.
Guarantee
There is a 60-day return policy offered by the manufacturer.
Our Review Summary Of Advanced Prostate Plus
The product Advanced Prostate Plus seems a promising supplement able to augment prostate health. There are certain good aspects such as the 60-day return pledge from the manufacturer. There are also simple and clear dosage instructions, leaving no doubt as to how to use the product for optimal outcomes. There are also some negative aspects that should be noted. Firstly, the company is not transparent about the price of the product. A potential buyer first has to sign in to view the price; in doing so, has to provide the company with their personal data. Secondly, even though the ingredient list seems pertinent, the supplement is not as comprehensive as other, similar products on the market. It lacks certain key ingredients. More so, this product contains elements such as silica that offers no real nutritional value and have some health risks.
Well researched reviews, from the experts at Research & You.