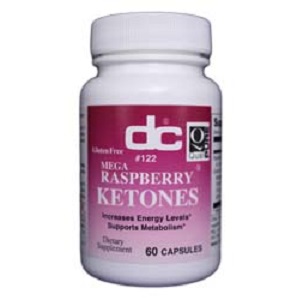 Dee Cee Laboratories Mega Raspberry Ketones - Does It Work?-Review
What is Dee Cee Laboratories Mega Raspberry Ketones?
The following review is for Dee Cee Laboratories Mega Raspberry Ketones with Green Tea & EGCG. It is designed to promote weight loss by suppressing appetite, improving metabolism and burning fat in the body. According to the manufacturer, this supplement makes this possible without any side effects that most diet products would give you.
Ingredients & How It Works
Razberi-K Raspberry Ketones
Green Tea
EGCG Catechins
Polyphenols
Razberi-K Raspberry Ketones help burn fat, increase metabolism, and suppress appetite, which leads to weight loss. Green tea contains a high amount of catechin called EGCG, which in clinical trials proved to cause weight loss of 3 pounds within three months on participants who took part in the study.
Other ingredients are Gelatin, vegetable cellulose,  and vegetable magnesium stearate.
Daily Serving
The recommended dosage is one capsule, taken twice a day, with your meals.
The Cost
Healthcare professionals are the only customers allowed to purchase this supplement. The manufacturer states that only registered healthcare professionals can purchase it, and they need to be registered on their website in order to be able to buy it. The price is not disclosed. We do not know whether consumers can purchase it from these healthcare professionals or if they receive it when they visit them for consultation.
Guarantee
The manufacturer does not offer a money-back guarantee, which means that even registered or licensed healthcare professionals, who would usually purchase supplements in bulks have no protection whatsoever. This is not good for them, and for you as the consumer who might be buying from them. The lack of guarantee shows that the manufacturer lacks confidence in the effectiveness of the product.
Our Review Summary Of Dee Cee Laboratories Mega Raspberry Ketones
Dee Cee Laboratories Mega Raspberry Ketones with Green Tea & EGCG might be beneficial in promoting weight loss. It contains raspberry ketone,  a natural ingredient that has been proven to be able to burn fat and increase metabolism. There are a number of things that we are concerned about.
There is no mentioning of the money-back guarantee, no reviews posted on the manufacturer's website, no price for the product, and it is not available from retailers. The lack of money-back guarantee puts the buyer at risk of losing and not benefiting from the supplements, while the lack of consumer reviews might mean that the product is not known, or has not been used by consumers. The unavailability of price on the website makes it challenging to even want to buy the product, even from the registered healthcare professionals because you do not know how much it would cost you. Furthermore, if this product is only available through licensed professionals that means it is not easy to get hold of it. Why would you want a product that requires so much of your effort but provides you with limited information? Rather buy a product that discloses all the required information, and one that is available for you whether or not you are a  healthcare professional. However, it must contain natural ingredients, have a money-back guarantee and consumer reviews on their or third-party retailer's website.
Well researched reviews, from the experts at Research & You.