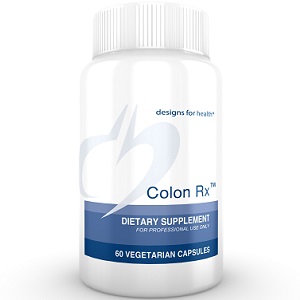 Designs for Health Colon Rx - Does It Work?-Review
What is Designs for Health Colon Rx?
This review is going to take a closer look at Designs for Health Colon Rx to learn more about this product and to see if it is worthwhile. Colon Rx is a colon cleanse that is designed to clear out your system from any toxic waste buildup. It uses two active ingredients, triphala and magnesium hydroxide, to help improve bowel mobility and tonicity for those who experience occasional constipation. The manufacturer claims that this cleanse can be taken for a short period of time to relieve occasional constipation or as a daily bowel tonic to help strengthen and tonify your bowels.
Ingredients & How It Works
Triphala (Emblica officinalis, Terminalia bellirica, Terminalia chebula) - 1 g

Magnesium Hydroxide - 400 mg
Other Ingredients: Cellulose, microcrystalline, vegetable stearate.
Triphala is a traditional Ayurvedic herbal formulation which is a natural antioxidant that can assist internal cleansing, maintain regularity, nourishes and rejuvenates tissues and supports healthy digestion. It is most commonly known for its use as a bowel tonic that supports achieving regular bowel movements. Magnesium Hydroxide absorbs water into the colon from the surrounding body tissues which allows for stools to pass easily.
Daily Serving
The manufacturer recommends taking 2 capsules with a glass of water at bedtime or as otherwise instructed by your doctor.
If you are pregnant, nursing or under medical supervision, you should talk to your doctor before taking this product.
The Cost
You can purchase this product directly from the manufacturer and from third-party retailers. One 60 capsule bottle costs $21.00 on the manufacturer's website. They do not offer any bulk purchasing packages or discounts but that can vary according to the retailer you purchase from.
Guarantee
We were unable to find a manufacturer's guarantee. This means that if you purchase this product and it does not work for you or you experience adverse side effects, you cannot get your money back.
Our Review Summary Of Designs for Health Colon Rx
Colon Rx appears to be a promising supplement that can help you achieve regular and easy to pass bowel movements. It is made up of two active ingredients that have individually been shown to have the ability to relieve constipation and it comes in easy to take capsules for convenience. However, it appears that this product is not backed by a manufacturer's guarantee. This raises an immediate red flag because it suggests to us that the manufacturer is not confident in its product's abilities and it puts the consumer at risk. It means that if you purchase this supplement and it doesn't work for you or you experience adverse side effects, you cannot get your money back.
The consumer feedback we saw is mixed. Some consumers claimed that taking this cleanse helped clear their system but many consumers reported that this product is weak and does not work. You are better off purchasing a colon cleanse that is backed by a strong manufacturer's guarantee for consumer protection and one that has positive consumer reviews.
Well researched reviews, from the experts at Research & You.