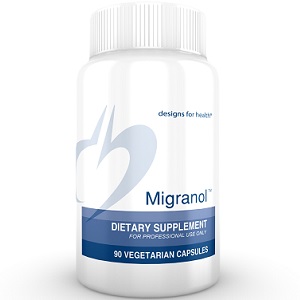 Designs For Health Migranol - Does It Work?-Review
What is Designs for Health Migranol?
Read our review about Designs For Health Migranol, a product with natural ingredients that are known for their ability to support a healthy inflammatory response. Migranol is a dietary supplement that is aimed at providing you with relief from pounding migraines. The manufacturer claims that you can use this product for a long time without worrying about your safety.
Ingredients & How It Works
The main ingredients are:
• Riboflavin
• Magnesium
• Feverfew
• Rosemary Extract
• Curcumin C3 Complex
Studies revealed that people who suffer from migraines usually have low Riboflavin and Magnesium in their bodies, hence the inclusion of these ingredients in Designs For Health Migranol is crucial. Magnesium is able to control the increase of blood vessels in the brain, which normally arises during migraines. Riboflavin helps with the production of energy. Feverfew is responsible for the reduction of pain, while Rosemary Extract and Curcumin contain antioxidant properties that also contribute to balancing inflammatory response. All these are great ingredients for Migraine, but there is one missing, and that is Butterbur. Migranol would be more effective if Butterbur was included, as this ingredient contains active properties, which are known to be very effective for reducing migraines.

The inactive ingredients contained in the product are Cellulose Capsule, Microcrystalline Cellulose, Vegetable Stearate and Silicon Dioxide.
Daily Serving
The manufacturer recommends that you take three capsules per day or as directed by your healthcare provider. They do not indicate whether these should be taken before, with or after meals. It also does not indicate if the three capsules should be taken at one time or in divided doses.
The Cost
This product can be purchased from the manufacturer's website for $28.64 for a bottle of 90 capsules. There are no discounts offered when purchasing more than one bottle.
Guarantee
There is no guarantee for satisfaction or effectiveness on this product, which means that you will not get your money back if Migranol does not do what it is supposed to do. The manufacturer makes it very clear on their websites that they only accept returns of unopened items within in 30 days of purchase. They do not indicate if you will receive money back or the exchange of the product if you return it. A receipt must also be presented as a proof of purchase.
Our Review Summary Designs for Health Migranol
Designs for Health Migranol is intended for the relief of migraines. Since the product contains important ingredients that are known for their effective properties in migraine relief, it is promising that it is an effective product. However, we would have been more confident in it if it also had Butterbur as one of the ingredients. Butterbur contains powerful properties for reducing migraines. The manufacturer also does not support this product with a guarantee.
We also found some customer reviews concerning. Some customers have complained that they have been using the product for months without results, while some indicated that Migranol only works when taken with other products that are intended to reduce migraines. Considering these factors we advise that look for another product that is backed by the manufacturer's guarantee.
Well researched reviews, from the experts at Research & You.