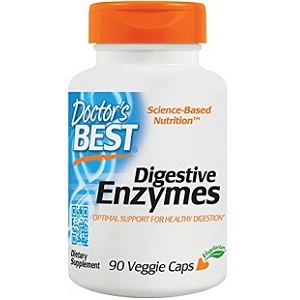 Doctor's Best Digestive Enzymes - Does It Work?-Review
What is Doctor's Best Digestive Enzymes?
In this review of Doctor's Best Digestive Enzymes, we will be taking a closer look at the facts to see if this product can deliver measurable results. As the name suggests, this product contains digestive enzymes which are said to aid in the digestion of foods such as fats, carbs, starch, and proteins. This product also contains probiotics in order to benefit the guts natural flora.
Ingredients & How It Works
Digestive Enzyme Blend
Amylase Blend
Protease
Dipeptidyl-peptidase
Bromelain
Papain
Invertase
Cellulase
Beta-glucanase
Alpha-galactosidase
Hemicellulase
Xylanase
Glucoamylase
Lipase
Lactase
Bacillus subtilis
This product contains digestive enzymes as well as probiotics which aid in promoting digestion and preventing symptoms such as diarrhea. Bromelain is also a digestive enzyme which is sourced from pineapples and is believed to assist in decreasing inflammation. We are disappointed to see that this product does not contain Black Pepper which aids in absorption and increases the bioavailability of nutrients. This product also lacks nutrients such as vitamin D which helps to improve overall digestive health. Vitamin D deficiency has been linked to some patients with IBS.
Daily Serving
The manufacturer recommends taking 1 capsule with each meal or otherwise prescribed by your physician. It is not clear what dosage you should not exceed and based on user comments we found that some had been taking 4 or more without seeing any measurable results.
The Cost
Each bottle contains 90 capsules which retail for $23.99. There is only a slight difference in price across various third-party suppliers. The manufacturer does not sell this product online however, you may purchase the product from authorized third-party suppliers. Unfortunately, we were unable to find any discounts or bulk purchase options for this product.
Guarantee
We were unable to find any refund policy or satisfaction guarantee given by the manufacturer. Third party retailers each have different policies with regards to refunds which you may qualify for depending on their terms and conditions. It's disappointing to see that the manufacturer does not provide any sort of guarantee for this formula which does not leave us with much confidence in this product.
Our Review Summary Of Doctor's Best Digestive Enzymes Review
We like the fact that this product has some beneficial ingredients which aid in digestion and inflammation, however, it would have been better if the formula also enhanced absorption of the broken down nutrients with the use of black pepper. When it comes to dosage, we feel that the manufacturer should mention what dose should not be exceeded. Not everyone sticks to three meals a day, some might have more or less and the instructions are to only take one capsule with each meal which is vague and confusing depending on your eating plan. While there are a variety of mixed reviews we were concerned to see that this product had the reverse effect on some. End users have complained that the product worsened symptoms instead. Based on the fact that there is no satisfaction guarantee on this formula, we are doubtful and do not have much confidence that this product is effective enough to deliver the desired results. 
Well researched reviews, from the experts at Research & You.