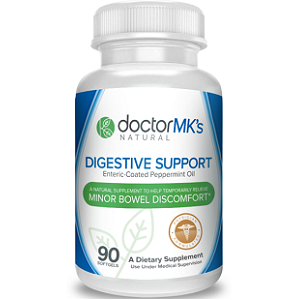 Doctor MK's IBS Relief Supplement - Does It Work?-Review
What is Doctor MK's IBS Relief Supplement?
In this review of Doctor MK's IBS Relief Supplement, our aim is to provide you with all the information you need to know before purchasing this product. IBS Relief is said to help provide symptomatic relief to those who suffer from digestive disorders such as IBS. these symptoms include bloating, gas, pain, and discomfort. The manufacturer claims that the product is free from any additives, food coloring, gluten or harmful chemicals.
These are the facts:
Ingredients & How It Works
Enteric coated Peppermint Oil
Other Ingredients
Ginger oil
Fennel oil
Gelatin
Glycerin
Water
Enteric coating
Carob
Soybean oil
Naturally occurring silicon
Peppermint oil is said to soothe the digestive tract and helps to alleviate nausea. Some studies also suggest that peppermint oil is helpful for gas and diarrhea, however, there is no supporting evidence to show that it eliminates these symptoms entirely and is in no way a treatment as the manufacturer claims. It's unfortunate to see that this product does not contain any probiotics or supporting ingredients which aid with digestion. Another concern is that Soybean oil may cause severe allergic reactions and may not be suitable for some.
Daily Serving
Doctor MK suggests that 1-2 capsules are taken up to 3 times a day 30 minutes before meals. While the peppermint oil contained in this formula equates to 362 mg per serving, based on the lack of evidence in studies, the peppermint oil alone may not be potent enough to deliver any measurable results.
The Cost
Each container contains 90 capsules and retails for $27.05 online. The product is only available for purchase via third-party stockists.There appear to be discounts and bulk purchase options available for this product if you purchase 1 bottle or more which offers 5 to 10% discounts.
Guarantee
This product comes with a satisfaction guarantee however the manufacturer has failed to give a timeline in which the product needs to be returned. They have also failed to mention what condition the product need to be in in order to qualify for a refund.
Our Review Summary Of Doctor MK's IBS Relief Supplement
We like that the manufacturer has stayed true to its word when it comes down to natural ingredients and we also appreciate that there are packages available which make the product very affordable. With that being said, we also have a few concerns about this product. The first concern is that there is no evidence to back up the claim that peppermint oil is effective in eliminating symptoms associated with IBS. The manufacturers themselves note on the website that this product "may" offer some relief. Another concern we have is that the manufacturer openly names another competitor product which feels more like a marketing hoax than anything else. Based on consumer feedback, we found that more end users were favorable to the competitor product instead of this one because they found that IBS Relief Supplement was ineffective. The fact that this product contains soybean oil is concerning and may cause adverse side effects to those who are allergic, furthermore the manufacturer only lists ginger and fennel in there allergy warning and not the soybean oil. The guarantee policy is lacking crucial information that should be made clear to the public before they decide on purchasing this product. Based on our findings we feel that the product may not be very effective and advise consumers to seek alternative products. 
Well researched reviews, from the experts at Research & You.