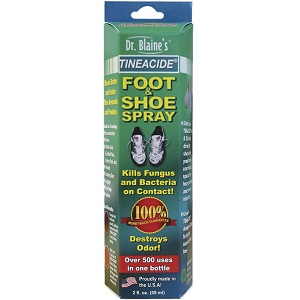 Dr.Blaine's Tineacide Antifungal Foot and Shoe Spray - Does It Work?-Review
What is Dr.Blaine's Tineacide Antifungal Foot and Shoe spray?
In this review of Dr.Blaine's Tineacide Foot & Shoe Spray we see how this product is formulated to destroy (99.9%) of foot fungus and bacteria as soon as it is sprayed on. In this review of Dr. Blaine's foot spray we see that it is also designed to eliminate odor and treat athlete's foot, toenail fungus and other fungal infections as well as preventing infections from occurring again. This product may be sprayed onto the affected area as well as items such as gym bags, sports gear, and wear, socks and shoes. The active ingredient Undecylenic acid works deep within the skin to fight infection while deodorizing the affected area.
Ingredients & How It Works
The mechanism that the undecylenic acid uses to ward off the fungal infection is cell inhibition. By inhibiting the cells of the fungus, the acid kills the fungus by destroying the structure of the fatty acids. This stops the fungus from spreading and therefore destroys the membranes of the fungus so that the fungus is beyond repair. It is concerning that no ingredients are put together alongside the undecylenic acid to reduce dryness, redness, and itching.
Daily Serving
After washing and drying skin, shake the can well, spray the product twice onto the affected area two to three times a week. Spray the product on items such as sports gear, shoes, socks and helmets to prevent cross-contamination. The spray dries to form a powder and should be used with care by those with sensitive skin as well as those nursing or pregnant (and those which are planning pregnancy) unless permission from a doctor is obtained. Certain medical conditions and medications may interact with the ingredient Undecylenic Acid. The fact that the product is unsafe for use by children under the age of 18 or that warning must be heeded with regards to the serious allergen risk the main ingredient poses was not mentioned.
The Cost
The foot and shoe spray may be ordered via phone or bought online. The 2 fl. oz spray is $19.99. Unfortunately, no discounts are mentioned.
Guarantee
A returns policy does stand.No time limit is stated on their website and there is no mention of the condition that the product has to be returned in. Should the product be bought directly from the manufacturer and not via a third party seller, one may request a return authorization form should one be unhappy with the product. The price of the purchase (which excludes tax) will be refunded.
Our Review Summary Of Dr.Blaine's Tineacide Antifungal Foot and Shoe Spray
Dr.Blaine's Tineacide Antifungal foot and shoe spray is easy to apply to affected areas as well as items which may be vulnerable to infection such as shoes, socks, and gym bags. We liked the fact that it can be used for toenail fungus and athlete's foot and also odor removal. It promises to prevent further infection, however, it does have a reputation for smelling unpleasant and not living up to its manufacturers acclaimed 500 sprays. Through our research we found that the manufacturer avoids the crucial mention of warnings about the product being flammable, reacting to medications, medical conditions, and circumstances. Leading brands also have a undecylenic acid concentration of at least 25%.We suggest other products be considered for treatment.
Well researched reviews, from the experts at Research & You.