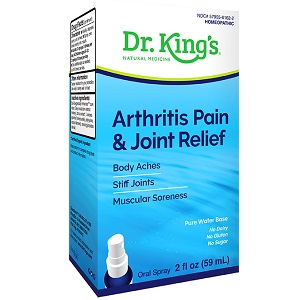 Dr King's Arthritis Pain & Joint Relief - Does It Work?-Review
What is Dr King's Arthritis Pain & Joint Relief?
Today we review Dr King's Arthritis Pain & Joint Relief. It can be very limiting when suffering from joint pain whilst wanting to be on your best.  Joint pain is commonly caused by inflammation and is usually triggered by arthritis. Arthritis Pain & Joint Relief claims to temporarily relieve symptoms of stiff, swollen joints, discomfort and body aches. If you regularly experience these symptoms and you want to know more about this product then read the rest of our review below.
Ingredients & How It Works
Actaea spicata
Aesculus hippocastanum
Arnica montana
Bellis perennis
Bryonia
Calcarea carbonica
Calcarea fluorica
Causticum
Cimicifuga racemosa
Formicum Acidum
Hypericum perforatum
Ledum palustre
Lithium carbonicum
Magnesia phosphoric
Phosphorus
Phytolacca decandra
Pulsatilla
Rhododendron chrysanthum
Rhus Toxicodendron
Ruta graveolens
Salicylicum acidum
Sepia
Zincum metallicum
This product also has inactive ingredients such as bio-enhanced pure water, citrus extract, Carya ovate bark extract, honeysuckle, polylysine and stevia. This product does not contain dairy, gluten or sugar making it safe for diabetics. All of the ingredients work in unison to ensure joint pain relief, reduce sore tendons and ligaments and to minimize discomfort.  A lot of the ingredients also have anti-inflammatory properties thereby helping to reduce inflammation. It is not stated whether this product is suitable for vegans or vegetarians.
Daily Serving
It is advised that you spray the formula up to 3 times in your mouth per day. You can also use it additionally as needed. Consult your doctor before using this product if you are pregnant or breastfeeding and if the pain worsens stop using the product and get a professional opinion.
The Cost
You can buy the product directly from the manufacturer's website for $19.99. One bottle has 59 ml of product and should last you at least one month. We couldn't find any information suggesting that there are discounts available relating to this product.
Guarantee
There is a 30-day money back guarantee available when purchasing this product from the manufacturer. You are responsible for the shipping fees when returning the product and you must also send your receipt back with the product. They do not mention the condition that the product needs to be in in order to qualify for a money-back guarantee.
Our Review Summary Of Arthritis Pain & Joint Relief
We like that this product is easy to apply and that it can just be sprayed in the mouth and not on the aching location itself, since some stiff joints may be hard to reach. We also like that this product comes with a 30-day guarantee if you are not satisfied with the product. No sugar in the ingredient list may make this product a suitable option for diabetics, and it also means it's a healthier choice for the general population. However, we are concerned that the state the product must be in to be eligible for a guarantee was not stipulated. We also don't know if three sprays a day will be sufficient for very bad joint pain. Since you can't ingest more than three sprays a day, we don't know if this product will be able to keep you indefinitely pain-free.
Well researched reviews, from the experts at Research & You.