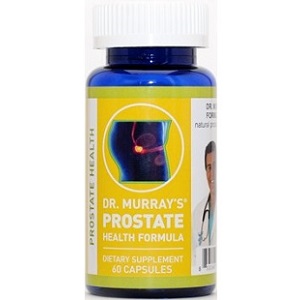 Dr. Murray's Prostate Health Formula - Does It Work?-Review
What is Dr. Murray's Prostate Health Formula?
Prostate supplements are intended as a precautionary measure to ensure prostate health by regulating hormones, promoting urinary health, and supporting regular prostate size. Dr. Murray's Prostate Health Formula claims to be an effective, and safe dietary supplement for optimal prostate health. The following review will assess the validity these claims to determine if this product is worthy for your purchase.
Ingredients & How It Works
Vitamin C
Magnesium
Zinc
Selenium
Saw Palmetto
Nettle Root
B-Sitosterol
Lycopene
Pygeum
Saw Palmetto and B-Sitosterol are key ingredients in prostate support supplements as they decrease the production of Dihydrotestosterone (DHT) which is directly related to prostate growth. Pygeum is known for reducing the obstruction of urine flow, pain, and inflammation. Although these ingredients are GMO and Gluten-free, there is no indication of the ingredients being Vegan, patented, or having gone through any moderated testing - thus we cannot confirm the safety, quality, nor efficacy of these ingredients.
Daily Serving
The dosage recommendation on the label it states that one capsule twice a day is suitable for supplementary requirements, but for an enhanced effect - two capsules twice a day is recommended. Yet on the story section of the website, Dr. Murray claims that one capsule in the morning and two capsules at night work best for him. This inconsistency implies that individual tolerance will vary and may need to be tested. It is not clear if food is required when taking these capsules. The concentration of Saw Palmetto in this product is concerning as the supplementary dose (one capsule twice daily, equivalent to 350 mg) is higher than the standard market recommended daily serving of 320 mg. Side effects from excess Saw Palmetto include dizziness, vomiting, and diarrhea. There is also the risk of slowing blood clotting and increased risk of bleeding, so although not mentioned on the website, this product should not be taken two weeks before surgery or taken with a host of other drugs such as aspirin and ibuprofen. With the lack of safety instructions and risk of side-effects, we do not recommend the 'enhanced' serving as this may not be a safe dosage of Saw Palmetto.
The Cost
To purchase a bottle of Dr. Murray's Prostate Health Formula online, you will pay $29,95 for 60 capsules. There is a coupon code available for a $5 discount, as well as the potential for 10% savings when using AutoShip, however, these subscriptions can be incredibly difficult to cancel if you end up not liking the product. Otherwise, there are no package deals available. When considering the high dosage requirements for 'enhanced' results, this product would be expensive to maintain use.
Guarantee
The guarantee policy offered by the manufacturer is vague - allowing a refund on products after they have been used for 2 weeks of everyday use. This does not state whether it will be a full refund or how it will be repaid. There are no customer reviews available on this product.
Our Review Summary Of Dr. Murray's Prostate Health Formula
Although the ingredients in Dr. Murray's Prostate Health Formula may fulfill the manufacturer's claims; the lack of patented ingredients, official third-party testing, safety precautions and customer reviews - combined with a high concentration of Saw Palmetto and an excessive dosage recommendation - imply that this product is not a safe product. Thus, we do not recommend this product as worthy for your purchase.
Well researched reviews, from the experts at Research & You.