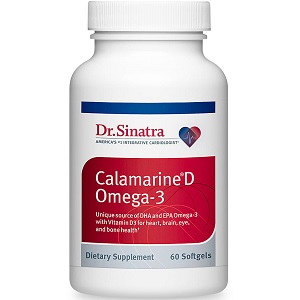 Dr. Sinatra CalamarineD Omega-3 - Does It Work?-Review
What Is Dr. Sinatra CalamarineD Omega-3?
Read our review below about Dr. Sinatra CalamarineD Omega-3. This formula contains D3, DHA, and Omega-3 which aids in brain, eye and heart health as well as overall well-being. It is also said to improve mood, bone and immune health. This formula contains quality ingredients that get absorbed by the body very easily.
Ingredients And How It Works
Vitamin D3
DHA
Calamarine oil
EPA
Other inactive ingredients used in this product is glycerin, purified water, olive oil, mixed tocopherols, and gelatin.
The active ingredients in this formula help to Improve mood, immune, bone, and heart health. DHA is essential in maintaining heart, eye and brain health while EPA helps to reduce inflammation. Calamarine oil is known to support healthy circulation, blood vessels, and blood pressure.
Potent, clean calamarine oil, that comes from calamari squid, is used in this formula. This clean oil gets absorbed and digested much better by our bodies than other types of fish oil. Therefore you will experience no fishy aftertaste or smell, which is common with many Omega-3 supplements.
They also use Vitamin D3, as it is highly absorbable. It is three times more absorbable than vitamin D2 that is usually used in these types of supplements.
Daily Serving
Two soft gels should be taken with a meal, daily.
The Cost
This product can be purchased for $13.19. This would be for a one-time purchase. They also offer an auto-delivery option, for $10.55. With this option, you also get free delivery and you save $2.64. One bottle contains 60 soft gels and offers you one month's supply.
Guarantee
The manufacturer offers a full refund if you are not completely happy with your purchase. This offer is valid for 90 days after the purchase was made. They do not mention in what state the product should be in when returned.
Our Review Summary Of Dr. Sinatra CalamarineD Omega-3
After reviewing this product, we came to the conclusion that CalamarineD Omega-3 seems to be a good formula which contains quality ingredients. The calamarine oil is easily absorbed by our bodies and you'll experience no fishy aftertaste. Vitamin D3 is also three times more absorbable than Vitamin D2 which is normally used in these types of formulas.
Even though the manufacturer offers a 90-day money back guarantee, they do not mention in what state the product should be in when returned.
Lastly, we found many positive customer reviews for this product, but we also found quite a few critical reviews. Many clients state that they experienced absolutely no difference after using the product for 6 months plus. Clients also state that the formula upset their stomachs. Also, even though it doesn't have a fishy aftertaste, some clients mentioned that the aftertaste is even worse than the usual fishy aftertaste of Omega-3 supplements.
Customers also mentioned that this product contains lemon and rosemary oil and therefore has the strange lemon aftertaste. This is quite concerning, as these ingredients are not listed on their website.
Well researched reviews, from the experts at Research & You.