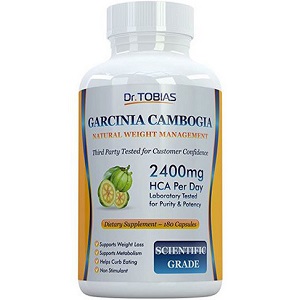 Dr.Tobias Garcinia Cambogia - Does It Work?-Review
What Is Dr.Tobias Garcinia Cambogia?
In this review of Dr.Tobias Garcinia Cambogia, the manufacturer prides itself by releasing a blend that capitalizes on natural weight-loss and management. This Garcinia Cambogia supplement is derived from the Tamarind fruit and will not stimulate the metabolism.  Garcinia is considered an all natural way to support losing weight safely. This dietary supplement aims to curb comfort-eating and hunger pangs while kick-starting the metabolism.
Ingredients And How it Works
Primary ingredients:
Garcinia Cambogia (1600 mg with a Hydroxycitric Acid concentrate of 50%)
Calcium  (272 mg concentrated at 28%)
Garcinia Cambogia is formulated for its ability to assist weight-loss and appetite control. It blocks the body's ability to make fat and it suppresses appetite. It may also help keep to blood sugar and cholesterol levels in check. Although, the HCA (Hydroxycitric Acid)  concentrate is way too low at 60%, as HCA concentrations of 95% have been proven most beneficial by clinical studies. Calcium aids the digestive system TO absorption of Garcinia Cambogia.

Other Ingredients
Vegetable Magnesium Stearate
Silica
Gelatin
The manufacturer could have chosen a vegetable capsule for a more eco-friendly option. The gelatin is not vegan and animal-friendly, the vegetable Magnesium Stearate is a contaminant unless third-party tested for purity, and the Silica which is an inert additive may hinder the desired results of the product.
Daily Serving
This product provides you with a super dosage of 2400 mg HCA per day (3 servings).
For best results, take the Garcinia 30-60 minutes before the meal on an empty stomach, with a big glass of water. The manufacturer encourages using this product together with activity and conscious diet to reach weight loss goals and warns against exceeding the recommended dosage.

Individuals under the age of 18, pregnant or lactating mothers, or individuals suffering from medical illnesses should consult with their doctor before administering this product. The product was manufactured and packaged in a facility which may also process nuts, soy, milk, wheat, egg, tree nuts, peanuts, fish and crustacean shellfish. According to our research, the recommended daily dosage is too high, and should only be a serving size of 1600 mg per day.
The Cost
180 capsules for a full 30-day supply at $17.97 from third-party online retailers. Discount coupons are available online on the manufacturer's website and the product is also available through third-party online retailers.
Guarantee
After thorough research, we regret that we were unable to deduce any information regarding a returns or refunds policy. This raises a great concern for us in our review as to how effective the product is and how confident the manufacturer is about the product.
Our Review Summary Of Dr.Tobias Garcinia Cambogia
In our review of Dr. Tobias Garcinia Cambogia, we have found more than one concern regarding this product namely, that the ingredients are not eco-friendly, there is no guarantee or return policy given by the manufacturer, and we have read some negative reviews concerning the high dosage of the product.
Well researched reviews, from the experts at Research & You.