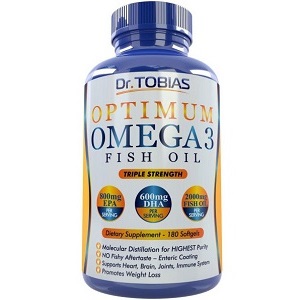 Dr Tobias Omega 3 Fish Oil Triple Strength - Does It Work?-Review
What is Dr Tobias Omega 3 Fish Oil Triple Strength?
The following review is for the dietary supplement Omega 3 Fish Oil Triple Strength. The manufacturer of this Omega-3 dietary supplement that this product can offer health benefits to your immune system, but also your heart, brain as well as to the joints.
Ingredients & How It Works
Two capsules provide:
Fish oil (2000 mg)
Eicosapentaenoic acid (800 mg)
Docosahexaenoic acid (600 mg)
Other ingredients: gelatin (bovine) vegetable glycerin, purified water, enteric coating, and natural vitamin E.
Fish oil is obtained from the tissues of oily fish. The finest oily fish are sourced from cold water fish, for example herring, sardines, mackerel, cod liver or salmon. More so, fish oil is a great source of Omega-3 fatty acids. In turn, Omega-3 fatty acids offers a lot of health benefits, such as helping to decreasing the risk of a stroke or heart problems. Additional health benefits include decreasing hypertension, joint pain, depression, arthritis, anxiety, diabetes, Alzheimer's disease, eye disorders, and attention deficit hyperactivity disorder (ADHD), as well as skin problems like eczema, but also hair issues such as thinning hair and dandruff. Fish oil is also linked to assisting people to lose weight, enhance their energy levels, but also to support pregnancy and promoting fertility. This capsule does contain gelatin, which is good to line the gut, but unsuitable for vegans and vegetarians as gelatin comes from animals.
Daily Serving
The manufacturer suggests taking two (2) capsules daily with food. The capsules should be swallowed, left to dissolve in the mouth, or be chewed. On the other hand, the consumer could also follow the instructions of their doctor.
The Cost
A bottle with 90 capsules has a purchase price of $29.97 on Amazon. No discounts are provided by the maker of this dietary supplement.
Guarantee
Subject to where a consumer bought this supplement, specific sites have their individual return policy. For example, at the company Labdoor, the guarantee is restricted to goods returned within 30 days of purchase and in good, unused condition, in original packaging, the documentation arranged when the buyer emails the company. Refunds does not include handling or shipping. In addition, this business reserves the right to reject any return.
Our Review Summary Of Omega 3 Fish Oil Triple Strength
The dietary supplement Omega 3 Fish Oil Triple Strength promises a range of health benefits, from brain, to heart, to immune system health. The quantity of docosahexaenoic acid and eicosapentaenoic acid are both at the accurate standard level for top results. Furthermore, this dietary Omega-3 supplement is reinforced by a money-back guarantee if the supplement are returned within 30 days of acquisition. There are, nevertheless, some concerns with this product. Firstly, this guarantee is only binding if the goods are returned unused in the original packaging. If not, no reimbursement will be entertained. What is more, the quantity of both eicosapentaenoic acid and docosahexaenoic acid may be spot on; but, to take in the required quantity you should take two (2) capsules each day, instead of just one (1) capsule. Thirdly, there are no discounts given by the manufacturer, which could have helped to make this supplement more reasonable. Last but not least, our research discovered that on Amazon alone only 50.5% of the 12934 evaluations on this supplement are reliable. Not only are the reviews untrustworthy and of poor quality, there seem to be great levels of dishonesty.
Well researched reviews, from the experts at Research & You.