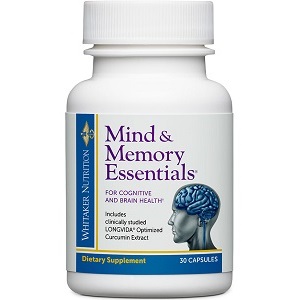 Dr. Whitaker Mind & Memory Essentials - Does It Work?-Review
What is Dr. Whitaker Mind & Memory Essentials?
This review will outline factors contributing to Dr. Whitaker Mind & Memory Essentials ability to produce optimal brain-boosting results. The manufacturer of this product states that it will effectively improve cognitive function, promote mental sharpness, and combat mental fatigue. We have assessed the reliability of this claim to ensure that you are equipped with the information needed to make a quality product purchase.
Ingredients & How It Works
Vitamin B6 - 35mg
Folate - 200mcg
Vitamin B12 - 500mcg
Longvida (curcumin extract) - 400mg
Bioperine black pepper extract - 5mg
Huperzine A - 100mcg
Vitamin B6 and B12 combat nutritional deficiencies which can lead to hindered brain function. These Vitamins are responsible for synthesizing neurochemicals and developing neural cells respectively. Folate is known to support memory retention. Longvida is a patented ingredient that works to promote mental clarity and enhance focus. The inclusion of a patented ingredient is positive to note as it suggests that quality is a consideration. Bioperine is used in this formula to ensure that the other nutrients are efficiently absorbed. The formula is comprised of important ingredients for brain support, however, omits many supportive ingredients used in competitor formulas. Amino acid precursors, such as L-Tyrosine and L-Phenylalanine, are extremely important for the production of Norepinephrine and Dopamine which are essential for optimal brain function. These ingredients need to be considered to make an informed consumer purchase. It is disappointing to note that the manufacturer does not clearly articulate if the product was manufactured under cGMP guidelines. This may be an indication that quality processes were not used.
Daily Serving
Users are to take one (1) capsule daily with a meal. The manufacturer states that the product will provide results within hours and optimal benefit will be seen after 30 days of use. That said, the dosage supplies limited substances for improved cognitive function. Many competitor formulas contain sufficient quantities of additional ingredients for improved results. This dosage, therefore, is likely too low to deliver optimal results.
The Cost
The product costs $39.99 from the manufacturer's online store. Each bottle consists of 30 capsules and, therefore, will last up to one month. This is a steep price to pay for a brain booster supplement. There are many more affordable alternatives on the market. The manufacturer offers bulk-buy deals to encourage long-term use. The substantial savings on offer likely account for the steep price per bottle and lack of supportive ingredients. Therefore, you are unlikely to get what you pay for.
Guarantee
There is a 90-day 100% Satisfaction Guarantee for purchases of this product. This could indicate a level of confidence in the product, however, it does not provide clear return stipulations. This brings the reliability of the guarantee into question. Furthermore, limited customer reviews for this product means that we cannot be sure of its effectiveness. Therefore, purchases may not deliver on manufacturer claims.
Our Review Summary Of Dr. Whitaker Mind & Memory Essentials
Dr. Whitaker Mind & Memory Essentials is an ideally dosed supplement containing important ingredients for boosting brain performance. Purchases of this supplement are supported by a lengthy guarantee. However, the guarantee is unclear and may not be as trustworthy as intended. With little customer reviews to support the product, we cannot confidently assure it is efficacious. And finally, the product is extremely expensive when compared to competitor supplements. Therefore, we recommend searching for a different brain booster.
Well researched reviews, from the experts at Research & You.