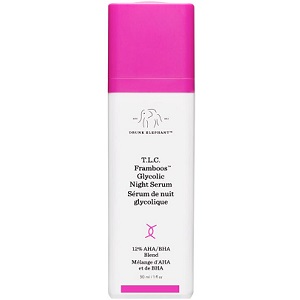 Drunk Elephant T.L.C. Framboos Glycolic Night Serum - Does It Work?-Review
What is Drunk Elephant T.L.C. Framboos Glycolic Night Serum?
Drunk Elephant T.L.C. Framboos Glycolic Night Serum is a product made specifically to refine the surface of the skin so that it is smoother and more radiant. It contains an exfoliator that helps the other ingredients to be absorbed better. The end result is a reduction in fine lines, wrinkles and discoloration and a less oily appearance to the skin.
Ingredients & How It Works
Glycolic acid
Tartaric acid
Lactic acid
Citric acid
Salicylic acid
Raspberry fruit extract
Cactus extract
Horse chestnut
Galactoarabinan
Phytostem buddleja davidii meristem cell culture
Virgin marula oil
White tea leaf extract
Sodium hyaluronate crosspolymer
Yeast extract
The first four ingredients listed are part of the gentle exfoliation component. The ingredients are completely natural so they do not normally produce dryness or sensitivity. The salicylic acid loosens secretions by the skin to improve the absorption of the other products. A number of ingredients in this list are also there to provide moisture and antioxidants. Antioxidants prevent environmental chemicals from damaging the skin and causing it to have a dull appearance. The sodium hyaluronate crosspolymer helps to fill in the space between the skin cells while hydrating them to give skin a plumper appearance.
The ingredients are cruelty free and there are no animal oilsor chemical preservatives present in this product.
Instructions
This product is only to be applied at night after cleaning the face and drying it thoroughly. Apply the product in a thin layer over the face and neck being careful to avoid the eye area. The manufacturer warns that there may be a slight tingling after this for the first few days.
The Cost
1 fl oz of this product is available to be bought online for $90. Customers may also buy a larger container of 1.7 fl oz for $134. At the moment these prices include shipping because free shipping is offered on all orders that are over $50. We could not find any evidence of a subscription service, loyalty program or any other general discounts.
Guarantee
If the customer finds themselves unhappy with their results they can contact the manufacturer within 30 days of their purchase and then return the unused portion of the product for a complete refund. This guarantee is only applicable to products purchased directly from the manufacturer and not from other retailers, which have their own returns policies.
Our Review Summary Of Drunk Elephant T.L.C. Framboos Glycolic Night Serum
We believe the group of ingredients in this product works well together to support the claims that the manufacturer makes about it. We also believe that it is commendable that the manufacturer offers a guarantee. This product is definitely an adequate one for customers to look at but there are a few shortfalls that it has compared to some of the leading manufacturers. It is a little bit pricey and the guarantee is not as long as some of the other leading manufacturers we have reviewed. So while this product is certainly good, unfortunately it is not the best. 
Well researched reviews, from the experts at Research & You.