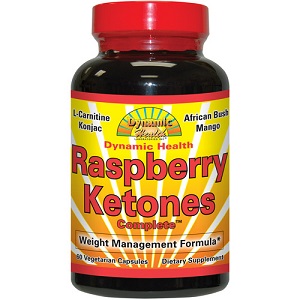 Dynamic Health Raspberry Ketones - Does It Work?-Review
What is Dynamic Health Raspberry Ketones?
This review is going to take a closer look at Dynamic Raspberry Ketones to learn more about it and how it works. This supplement is a weight loss supplement that is made up of a variety of ingredients that are designed to help you lose weight. The manufacturer claims that taking this supplement will support weight loss and can contribute to your overall wellbeing.
Ingredients & How It Works
Raspberry Ketones - 250 mg

Proprietary Blend (African Bush Mango, Green Tea Extract, Konjac Root Fiber, Glucomannan, Baobab Extract, Acai Berry, Resveratrol, L-Carnitine, Apple Cider Vinegar, Garcinia Cambogia, Bitter Melon Extract, Nopal Cactus Fruit, Chromium Picolinate, Cascara Sagrada, Dandelion Root and Uva ursi Extract) - 750 mg
Other Ingredients: Vegetable stearate, vegetable cellulose, and silica.
Raspberry Ketones are the element in raspberries that give them their red color. All Raspberry Ketone supplements are synthetically made because one recommended serving is equivalent to 90 pounds of natural raspberries. They support weight loss by increasing your body's levels of adiponectin which is a hormone that helps regulate your metabolism and helps your body burn fat faster. They also have a high fiber content which makes you feel fuller longer. Green Tea Extract has a high level of EGCG which is an antioxidant that can boost your metabolism. Konjac Root Fiber has levels of fiber which also make you feel full longer.
Daily Serving
The manufacturer recommends taking two capsules once or twice daily with water or as otherwise instructed by your doctor.
If you are pregnant, nursing or have a medical condition, you should talk to your doctor before taking this supplement.
This product contains Konjac which is an expanding fiber and you should make sure to take the capsule with sufficient drinking water.
The Cost
We have found that this supplement has been discontinued from all of the third-party retailer's websites we have seen and we were unable to find a price. This suggests that this supplement is not popular or worthwhile for the manufacturer to continue selling. It may be difficult to find a place to purchase it.
Guarantee
We were unable to find a manufacturer's guarantee. This is risky because it means that if you purchase this supplement and it doesn't work for you, you cannot get your money back from the manufacturer.
Our Review Summary Of Dynamic Health Raspberry Ketones
Dynamic Health Raspberry Ketones appears to be a decent weight loss supplement that can potentially help you to lose weight. It comes in easy to take capsules for convenience and it is made up of a variety of ingredients that have individually been found to support weight loss. However, this product is obscure and there is not much information available on it. It has been discontinued from several third-party retailer's websites which suggests that this was not popular or worthwhile for the retailer to keep in stock. The consumer feedback we saw might suggest why this supplement was pulled from their stock. Consumers reported that after continuously taking this supplement as directed by the manufacturer, they did not see any results. They claim that this supplement does not work and is a waste of money. It is also not backed by a manufacturer's guarantee which suggests that the manufacturer is not confident in their product's ability. You are better off purchasing a Raspberry Ketone weight loss supplement that is current on most retailer's websites, one that has positive consumer feedback and one that is backed by a strong manufacturer's guarantee for consumer protection.
Well researched reviews, from the experts at Research & You.