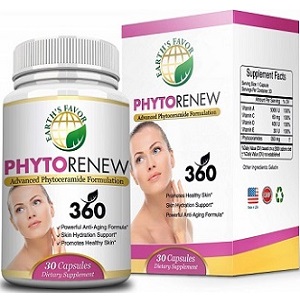 Earth's Favor PhytoRenew - Does It Work?-Review
What is Earth's Favor PhytoRenew?
Earth's Favor PhytoRenew claims to be an advanced phytoceramide formulation that provides powerful anti-aging and hydration support, promoting healthy skin. In the following review, we shall examine these claims by assessing the product formula as well as the customer support provided by the manufacturer - helping you decide if this product is a worthwhile purchase.
Ingredients & How It Works
Phytoceramides
Vitamin A
Vitamin C
Vitamin D
Vitamin E
As the skin ages - it starts to lose moisturizing lipids called ceramides so, phytoceramides (which are plant-derived lipids) replace these ceramides to help keep skin plump and hydrated. This is combined with the antioxidant Vitamins A, C, D, and E which condition skin and protect it against environmental damage. Together, this formula has the potential to promote healthy skin while reducing signs of aging such as wrinkles and fine lines. This product is not vegan as it uses gelatin. The manufacturer claims the product abides by GMP guidelines, however, the formula does lack patented ingredients which would give the customer a level of guarantee the effectiveness of the product.
Daily Serving
The product packaging states that 1 PhytoRenew capsule must be taken as a daily supplement. This equates to 350mg of phytoceramides per serving, which is the market standard dosage. There is no indication if this needs to be taken with food. The manufacturer cautions that customers must not exceed the recommended dosage. Pregnant or nursing mothers, those with a pre-existing medical condition, or those under the age of 18 should consult their physician before commencing use.
The Cost
The packaging states that there are 30 capsules per bottle, so this would equate to a months supply of supplements. However, the product is currently unavailable and discloses no information on when stock will be replenished or the price customers can expect to pay for the product. Thus, we are uncertain as to when or how potential customers can purchase this product.
Guarantee
The manufacturer offers a 90-day 100% Money Back Guarantee. This may showcase confidence in the product, however, the refund policy is vague and lacks critical information for refund eligibility such as the extent of product use. Some customer reviews claimed this product was ineffective in reducing signs of aging, stating there was no notable difference after extended use. Other customer reviews claimed the product gave them unwanted side effects such as oily skin and acne as well as experienced difficulty in returning the product.
Our Review Summary Of Earth's Favor PhytoRenew
Earth's Favor PhytoRenew has a formula of ingredients that have been known to deliver on the manufacturer's claims of youthful and healthy skin, with a market standard concentration of 350mg per serving. However, the product does lack the guarantee of its effects such as including patented ingredients. The returns policy is vague and there have been an array of negative customer reviews that claimed they experienced negative side effects or no notable impact at all. We do not recommend this product as a worthy product choice when there are other high quality and satisfactory products available on the market. 
Well researched reviews, from the experts at Research & You.