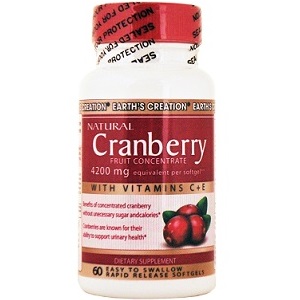 Earth Creations Natural Cranberry - Does It Work?-Review
What is Earth Creations Natural Cranberry?
This review is for a product called Earth Creations Natural Cranberry that is designed to support urinary and immune system health. The manufacturer claims that cranberries contain nutritional benefits of proanthocyanidins. In addition, this product has Vitamin C, which plays a role in supporting the immune function.
Ingredients & How It Works
Vitamin C is beneficial in supporting and promoting healthy immune system. Researchers claim that cranberries make it harder for infection-causing bacteria to stick to the urinary tract walls.
Daily Serving
Information on daily serving or recommended dosage is not shared on the manufacturer's website, and on third-party retailer's website. Therefore, we could not find out the amount of capsules to take, and whether they should be taken before or after meals.
The Cost
The price of the product is not shared on the manufacturer's website. It is also not available on the website of the online retailer that has the supplement on display. Moreover, it is out of stock on this retailer's website, and it is stated that they do not know when or if it will be back on stock.
Guarantee
There seem to be no money-back guarantee on this supplement. We could not find any information relating to it. This is a big concern because buying a product that is not backed by the manufacturer's guarantee is a risk.
Our Review Summary Of Earth Creations Natural Cranberry
Earth Creations Natural Cranberry could be effective in providing support for and promoting good urinary tract health. It contain Vitamin C, which is known to boost the immune system. However, there is very limited information about the product as a whole, and it is information that is very important for the consumer to be aware of. Firstly, we only found out that it is made from cranberry and Vitamin C from the claim of the manufacturer. The are no supplement facts displayed about the supplement. Without supplement facts we won't know how much Vitamin C and Cranberry is contained in it, which is dangerous. Large amounts of  both cranberry and Vitamin C can cause diarrhea or upset stomach.
Moreover, we do not know the cost because it is not displayed on the website. There is also no information on money-back guarantee. This means that if you buy this supplement, you would be doing so at your own risk. You might not be able to return it for a refund if you are unsatisfied with the results. Lastly, there is not even a single consumer review about, which is not good, because consumer reviews are a good indication if people have used the product, and the results to expect. We would be careless if we could recommend a  product with so many downsides. We recommend that you rather look for a product that will provide you with all the important information in order to make an informed decision when purchasing the supplement for yourself.
Well researched reviews, from the experts at Research & You.