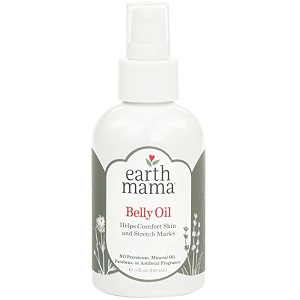 Earth Mama Belly Oil - Does It Work?-Review
What is Earth Mama's Belly Oil?
Read our review below about Belly Oil, or Earth Mama's Angel Baby's Natural Stretch Oil, as it was known before the name change. This treatment claims to be an effective stretch-mark oil. The oil is purported to help deter stretch marks, in addition, to relieve the itch. The delicate fragrance will not aggravate morning sickness.
Ingredients & How It Works
The ingredients are:
Borage seed oil – This is a skin conditioner.
Calendula flower extract – This oil helps to heal dry and damaged skin, rashes, skin inflammations, and other skin disorders.
Grape seed oil – Grape seed oil is high in the vitamins C and E, but also in omega 6 and 9, and beta-carotene. As vitamin E contains essential fatty acids and nutrients, it is able to help prevent stretch marks from forming, to reverse the damage, and improve the appearance of the skin. Jojoba seed oil – This oil boosts the healing of acne scars and stretch marks.
Orange flower oil – This oil minimizes stretch marks by replenishing the oils in the body that are used to rebuild skin.
Sweet orange – This substance can assist in reducing stretch marks by restocking the oils in the body that are used to restore skin.
Other ingredients are effective in preventing and reducing the appearance of stretch marks. These are not included in this formula, namely medical grade silicone, aloe vera, onion extract, emu oil, lavender, safflower, and sunflower. The medical grade silicone affords a protective layer to seal in moisture and speed up healing.
Daily Serving
Instructions are limited. The manufacturer merely states that the oil should be repeatedly massaged onto the affected areas – such as the stomach, buttocks, and breasts. Our research has exposed the tendency of this pure oil to stain clothing. Therefore, after application, suitable clothing should be worn. Oil-based stains may be removed with warm water and a good detergent.
The Cost
Belly Oil is available online on the manufacturer's own website. There are two sizes − a 1-ounce and a 4-ounce bottle. The smaller bottle costs $14.99. No discounts are available.
Guarantee
Despite our research efforts, we were unable to find a manufacturer's guarantee. This is a concern, as the lack of a  guarantee could cause consumer queries about the effectiveness of this product.
Our Review Summary of Belly Oil
The idea of an oil not only to soothe but also to help prevent stretch marks is appealing. Belly Oil comes in two sizes of bottle. It is made from all natural ingredients therefore does not contain any preservatives, petroleum, mineral oil, artificial fragrance, or parabens. In addition, our research found that the reviews on this product have a high quality rating, although the reviews are outdated. We should also mention that this company offers no guarantee on their product; the instructions are vague, and the quantities of the ingredients are not provided. Lastly, although this treatment is all natural, any mother-to-be certainly wishes for an effective treatment against stretch marks. Clinically treated silicone has a proven efficacy, however, this formula does not contain this effective ingredient.
Well researched reviews, from the experts at Research & You.