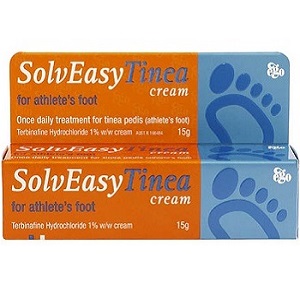 Ego SolvEasy Tinea Cream - Does it Work?-Review
What is Ego SolvEasy Tinea Cream?
In this review of SolvEasy Tinea Cream, we examine how this formulation of active ingredient Terbinafine Hydrochloride is utilized to eliminate the fungus which is responsible for Athlete's Foot as well as its symptoms which include scaly, red, itching and discomfort of the foot's skin. Terbinafine Hydrochloride has been proven to remain active in the skin up to seven days after use and is free of the ingredient lanolin.
Ingredients & How it Works
Primary Ingredient:
Terbinafine Hydrochloride 1%
This is basically an antifungal which may also be used to treat ringworm as well as jock itch. When applied topically, the antifungal seeps into the skin and kills the fungus by interrupting its growth cycle.

We see that although this may be a good antifungal, other antibacterial or soothing ingredients (Sweet Almond Oil or Manuka Oil) could have been added to the cream to speed up the healing process and deal with irritating symptoms. We also see that only 1% of the active ingredient is utilized in the blend, which makes us question the potency of the product.

Undecylenic Acid might have been a better choice of antifungal ingredient, as it may be concentrated up to 25%, and is also proven by clinical studies to wield the fastest results.

Secondary Ingredients:
Benzyl Alcohol
Hydroxybenzoates
Benzyl Alcohol may also be a potential irritant to those with sensitive skins.
Daily Serving
The manufacturer advises that a medical practitioner is consulted with before using the product. To use this cream, the manufacturer advises that the site of infection is to be washed with a soap alternative (soaps may irritate the skin further) and then well dried before rubbing the cream into the site of infection as well as the surrounding skin. This can be done once a day, for seven days.

This product should not be used by pregnant or breastfeeding women, or for children under the age of 12.
The Cost
This product is made available for purchase through the manufacturer's website, which requires registration, as well as stocking retail pharmacies. A 0.5 oz tube of cream is sold at $11.95.
Guarantee
The manufacturer protects their customers with a return and refund policy ( which includes shipping fees) which is valid for only 30 days after purchase. Should the product have been purchased through the online store and the customer has a valid receipt, the product may be returned in its original packaging and condition as long as it has not been damaged in any way. An online return form will need to be filled in and submitted for eligibility.
Our Review Summary of Ego SolvEasy Tinea Cream
In our review of  Ego SolvEasy Tinea Cream, we certainly liked that the product is affordable and that it has gained some positive customer reviews. We also see that although this product offers a reasonable topical treatment for Athlete's Foot, it lacks a key ingredient (Undecylenic acid), as well as a stronger returns policy and also poses a threat of irritation to those with sensitive skin because of its Benzyl Alcohol content.
Well researched reviews, from the experts at Research & You.