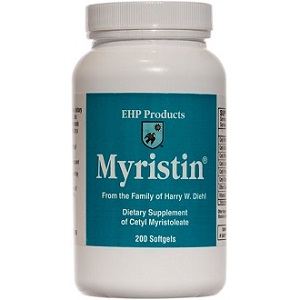 EHP Products Myristin - Does It Work?-Review
What is EHP Products Myristin?
This review analyzes the suitability of Myristin as a dietary supplement made from cetylated fatty acids whose 40% concentration of CMO (cetyl myristoleate) is said to be the force behind the treatment of arthritis and arthritis-related joint complications. The manufacturer claims that you use the supplements for only two months, and then can use it for maintenance. The high concentration of CMO allows you to take fewer softgels per day as well as consume the required amounts within a shorter time.
Ingredients & How It Works
Cetyl myristoleate (CMO) - 260mg
Cetyl Oleate - 180mg
Cetyl myristate - 133mg
Cetyl linoleate - 12mg
Cetyl palmitate - 7mg
Cetyl Stearate - 6mg
Other cetyl esters - 52mg
Vitamin E - 2IU
CMO is beneficial in the treatment of arthritis and its related symptoms. However, it is more effective when it is combined with other ingredients or supplements that can help treat joint pain. This product has minor components which include gelatin, glycerin, and titanium dioxide which forms the softgel shell.
Daily Serving
It is recommended to take three Myristin softgels per day with water on an empty stomach. You can take the softgels 30 to 45 minutes before meals or just after meals if that suits your lifestyle. To complete the regimen, you will need to take three Myristin-Aid capsules to accompany every Myristin softgel every day at lunch and dinner, and two at breakfast to make a total of 8 Myristin-Aid capsules a day. This is the dosage for two months which is a lot of tablets to take a day.
The Cost
You can order Myristin directly from the manufacturer's official website by filling in an order form. One bottle of 51 softgels sells at $49.95. However, ordering online will earn a discount of $5. The final price is; therefore, $44.95. You can also buy in bulk with four bottles costing you $154.95. Four bottles will be a two month supply. You can also buy a four bottle kit containing Myristin and Myristin-Aid for $199.50.
Guarantee
Our review did not find any refund policy or money-back guarantee should the product be unsatisfactory. You will need to talk to you healthcare provider before using this product. Lack of a manufacturer's guarantee may show a lack of full confidence in the efficacy of the supplement.
Our Review Summary of Myristin
Myristin seems to be an effective treatment for arthritis and its related complications such as joint pain based on its ingredients that are supported by scientific research. There are also no reported side effects accompanying this product, except for possible stomach upsets which can be remedied by taking a lower dosage. The number of tablets a person is required to take is quite off-putting. It is also not clear if you can take Myristin alone or if you really should take it with the Myristin-Aid. We have found other products on the market that are clinically proven to help joint pain and which also come with a money-back guarantee and allow you to take fewer tablets a day.
Well researched reviews, from the experts at Research & You.