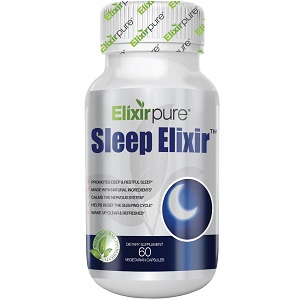 Elixir Pure Sleep Elixir - Does It Work?-Review
What is Elixir Pure's Sleep Elixir?
In this review, we focus on the product Sleep Elixir, by Elixir Pure. This product claims to offer a solution to insomnia and other sleeping disorders. This natural product allows you to have a more restful night's sleep.
Ingredients & How It Works
Ingredients include:
Vitamin B6
Magnesium
Zinc
L-Tryptophan
Gamma-Aminobutyric Acid (GABA)
L-Theanine
Valerian root extract
Chamomile flower extract
Melatonin
Other ingredients include rice flour and hypromellose. Vitamin B6, magnesium and zinc have calming effects.
A deficiency of magnesium is also linked to insomnia. Furthermore, zinc helps with muscle growth and food digestion. L-Theanine, L-Tryptophan and GABA are amino acids that work in the brain to stabilize mood, lessen anxiety and promote sleepiness. Compounds in the plant extracts of valerian root and chamomile enhance the effectiveness of this product.
They also gives a mild sedative effect, and reduce anxiety.  Melatonin is a hormone which is produced by the pineal gland. It helps improve the quality of sleep. In addition, the ingredients in this sleep supplement are suitable for any dietary conditions. Capsules are allergen free, gluten free, soy free, and dairy free. They do not contain any non-GMO ingredients.
Daily Serving
The recommendation from the manufacturer is 2 capsules before bedtime, alternatively, at times of stress, or as directed by your health-care provider. Pregnant women, or those with any medical issues, should consult a doctor before taking these capsules.
The Cost
One bottle of 60 capsules costs $21.50 to buy online from the manufacturer. The manufacturer offers no bulk discounts on purchases. You can only buy this sleeping aid directly from the manufacturer's website, and not from third-party sites.
Guarantee
The manufacturer offers a 100% money back guarantee. Their policy includes that items may be returned whether opened or unopened, as long as this is within 60 days of purchase.
Our Review Summary Of Sleep Elixir
Sleep Elixir, by Elixir Pure, is a product made of natural ingredients aimed at treating insomnia. This product is suitable for many people that have dietary restrictions as it is free from soy, dairy, gluten and allergens. Also, the company offers an attractive 60-day money-back guarantee on its products. This allows the buyer to test its efficacy, without losing money. On the downside, our research indicates that there are key ingredients missing from an otherwise good product. Other sleeping aids on the market may provide such ingredients. There are 11 key clinically proven ingredients for treating insomnia. These include melatonin, lemon balm, valerian, chamomile, passion flower, hops, taurine and L-ornithine. However, this product contains only some of these ingredients. Another concern is the lack of external review comments on this product, the product not being sold on a third-party site. There is a strong possibility of bias in the comments posted on the company's own website.
Well researched reviews, from the experts at Research & You.