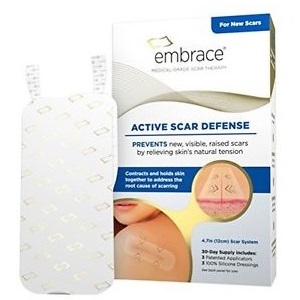 Embrace Active Scar Defense - Does It Work?-Review
What is Embrace Active Scar Defense?
Embrace Active Scar Defense is a new product designed by a plastic surgeon to reduce the incidence of scar formation.  It is a patch that can be applied over the wound to protect it, thus reducing the formation of a scar.  Scars are an unfortunate reality of life because it is so easy to be injured. However, they do not need to persist and cause irritation or an unpleasant look. In this review we analyze the effectiveness of this product by looking at how it works and what it costs to use it.
Ingredients & How It Works
Embrace Active Scar Defense is a 100% silicone pad which can be applied to the scar. It uses a medical grade adhesive to remain on the area for up to 10 days. The pad protects the scar from friction and locks moisture in to help the skin regenerate. The idea of the pad is to reduce tension in the skin which results in decreased scar formation.
Daily Serving
The pad must be applied over a dry incision where no scabs are present. The sooner after injury the pad is placed over the wound the better the results should be. The application should last about 10 days. Thereafter, or when the edges start to lift, it should be removed slowly and gently, preferably in the evening to allow the wound to be exposed to oxygen. It is recommended to peel off a corner of the patch and use warm water and soap or baby oil to help remove the rest. A new pad should be applied each time for up to 60 days. In advanced cases the product can be used over a wound for up to a year.
The Cost
The cost of each pad depends on the size needed:
Small (1.6 inches) - $78.18
Medium (2.4 inches) - $84.98
Large (4.7 inches) - $101.98
X Large (6.3 inches) - $169.98 
Guarantee
We could not find any evidence of a guarantee offered on this product. The manufacturer does have a customer support contact number though.
Our Review Summary Of Embrace Active Scar Defense
The research which accompanies this product is very comprehensive and conclusive. This product has undergone clinical trials which have supported its use. Despite this, we do not think it is the best product for treating scar formation. For starters it generally only works on scars which are not older than 6 months.  It also doesn't particularly include any active ingredients to remove infection or oxidants or to provide the skin with nutrients.
The application of this product is also quite complicated and the long term use of this product will definitely be expensive as the price of the product is very high.
We recommend a topical application product such as an ointment or cream that can be used over a long period of time at a much cheaper price and delivers the right substances to improve skin healing.
Well researched reviews, from the experts at Research & You.