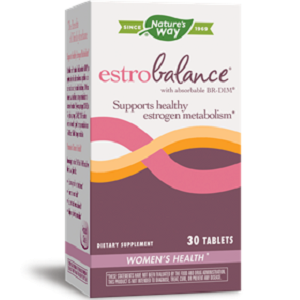 Enzymatic Therapy Estrobalance - Does It Work?-Review
What Is Enzymatic Therapy Estrobalance?
The following review is for a product that is called Estrobalance and it will explore all the real facts. This product claims that it encourages female health by creating and supporting a healthy estrogen metabolism. It claims to support breast health, cardiovascular health, and metabolism health as well as hormone balance. This product claims to be specially designed for the use of women experiencing menopause.
Ingredients & How It Works
Calcium - 340 mg
Indolplex Diindolylmethane (BR-DIM) Complex - 120 mg
Calcium is well known to be crucial for the healthy developments and functions of strong bones and teeth and it is also beneficial for muscles and nerves. Diindolylmethane is an ingredient used in this product that acts like estrogen in your body and is therefore beneficial for aiding menopause symptoms and may assist with premenstrual stress symptoms.
Daily Serving
The manufacturer of this product suggests that you should take one tablet daily along with a meal and that if you require extra support, you may take two tablets per day also along with a meal. Unfortunately, they do not advise the best time of day to use this product which is unusual. It is cautioned that this product is not safe for pregnant or attempting to become pregnant as it is not safe. This product should also be kept away from children and if you have a medical condition or are using any medications, you should first consult a doctor before attempting to use this product.
The Cost
You can purchase this product online directly from the manufacturer's website, and it will cost you $27.49 for a bottle of 30 tablets. Alternatively, you could opt to purchase 60 tablets for $50.99 which would provide you with a rather small saving. Unfortunately, there are no other discounted options for purchasing this product through the manufacturer.
Guarantee
The manufacturer only seems to accept returns for this product if it is sealed and unused which is extremely concerning as a lack of a money back guarantee shows that the manufacturer does not feel confident enough about this product nor do they endorse customer satisfaction which is very disappointing.
Our Review Summary of Estrobalance
This supplement does use some good ingredients which may benefit hormone balance during menopause and it is also somewhat fairly priced which could suggest that this is an ok product, however, there is no money back guarantee which questions the quality standards and general effectiveness of this product. There are also no customer reviews available on the manufacturer's website which could have provided feedback on the concerns about quality and effective results through the experiences of people who have actually used this product. Based on all our findings, this product is really not all that great and you should probably rather opt for a product that is more suitable and has proven effective through customer reviews and a manufacturer's guarantee.
Well researched reviews, from the experts at Research & You.