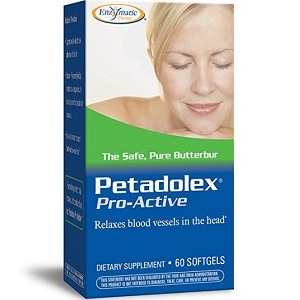 Enzymatic Therapy Petadolex Pro-Active - Does It Work?-Review
What is Enzymatic Therapy Petadolex Pro-Active?
Enzymatic Therapy Petadolex Pro-Active is a dietary supplement which is designed to control migraines. Only those who suffer from migraines can truly understand the pain that comes along with them.  Migraines are caused by many underlying conditions but they commonly manifest as an excruciating pain in the head, which can cause nausea and blurry vision. We closely examine this supplement to determine if it has a good value for money.
Ingredients & How It Works
There is only one active ingredient in this supplement which is butterbur extract.  There are also other ingredients (medium chain triglycerides, gelatin, glycerin, sorbitol, purified water, riboflavin color) which essentially serve to pack the active ingredient in a gel capsule. It should be noted that gelatin is not vegetarian or vegan friendly.
Butterbur contains many active compounds such as petasins,  which have been shown in scientific studies to decrease inflammation and spasms of the blood vessels in the brain. Scientists have found that petasins inhibit the action of an important enzyme called lipoxygenase which produces inflammatory substances. Although this action is a good measure against migraines there are definitely more ingredients which should have been included to support the effects of the butterbur extract.
These ingredients are contraindicated for liver disease and jaundice and may be unsafe for pregnant women.
Daily Serving
Three capsules can be taken daily at different times for the best results. It is not specified whether the supplement should be taken with food or not. This supplement provides 7.5 mg of petasins in each capsule. There are however, supplements which provide much higher dosages of petasins compared to this one.
The Cost
One package of Enzymatic Therapy Petadolex Pro-Active can be bought online for $52.99. Each package contains 60 capsules, which equates to 20 days supply. There appears to be no discount available for buying bulk, which may cause the long-term use of this product to be more expensive.
Guarantee
We researched the returns policy for this manufacturer and found something quite surprizing. The manufacturer does offer a refund provided that only sealed unopened products are returned within 60 days. However, the products may not be expired upon return which means that some products expire within 60 days after purchase. The returns process seems quite painstaking and actually it seems like the manufacturer will give great hastle to anyone trying to return the product.
Our Review Summary Of Enzymatic Therapy Petadolex Pro-Active
The active ingredient is quite well researched in the scientific community but the manufacturer does not provide that information. Although it appears to be quite a promising product, we do feel that more active ingredients should be included.
We really found the returns policy of the to be ridiculous.  In our opinion it is as useful as not even a returns policy at all. The price of this supplement is also quite high compared to its counterparts from other manufacturers.
As far as migraine supplements go, we don't particularly find this one to be the best. There are cheaper products out there which seem to have superior ingredients.
Well researched reviews, from the experts at Research & You.