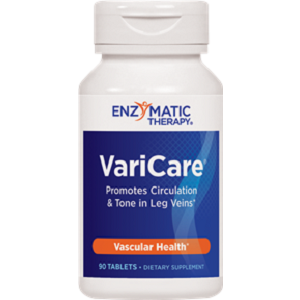 Enzymatic Therapy VariCare - Does It Work?-Review
What is Enzymatic Therapy VariCare?
This is a review of a product called Enzymatic Therapy VariCare. The manufacturer claims that this product provides standing power through supported circulation. This product is also said to promote healthy and toned leg veins but is it the best total care solution for varicose veins? We shall review various product aspects and manufacturer support to help you determine if this is a wise product purchase.  
Ingredients & How It Works
Calcium (as calcium carbonate) - 140mg
Butcher's Broom Extract (root) - 300mg
Horse Chestnut Extract (seed) - 250mg
Gotu Kola Leaf Phytosome - 30mg
This product contains many beneficial ingredients known to relieve varicose veins. Butcher's Broom Extract supports artery health to relieve swelling and the appearance of varicose veins; while Horse Chestnut Extract promotes circulation to reduce pain, itching, and water retention. These two ingredients are incredibly popular in varicose vein solutions available on the market. Gotu Kola Leaf Phytosome is a patented proprietary blend of Centella Triterpenes and Phosphatidylcholine (made from soy) which is said to support varicose veins while relieving associated symptoms. Although these ingredients are beneficial, the lack of both an internal and external solution is concerning as this likely inhibits the relief potential of this product; especially in comparison to competing brands that offer both complementary products t deliver a total-care solution. This product is vegetarian, gluten-free, lab tested and produced in a GMP certified facility. While these aspects are highly beneficial, this alone does not ensure product efficacy.
Daily Serving
To take as a dietary supplement, take 2 tablets twice a day. There is no mention if this should be with food or not. Be sure to consult a doctor before use; especially pregnant and nursing mothers as well as those with any additional medical conditions. The market standard concentration of horse chestnut is 300mg, where this product supplies a slightly lower amount of 250mg. The concentration of Butcher's Broom is adequate.
The Cost
This product is available for purchase on the manufacturer's website, where 1 bottle of 90 capsules retails for $29.99. This may seem affordable, yet 1 bottle of supplements will not the entire month. This, combined with a lack of package offers and additional discounts available suggests that extended use may become costly.  
Guarantee
There is a 30-day guarantee for products bought from the Enzymatic Therapy website. To qualify for a refund, customers need to consult with customer services before sending back their product. This policy is not extended to opened products and the manufacturer reserves the right to refuse a return. Furthermore, there are not enough customer reviews to substantiate claims of efficacy. This is a concern.
Our Review Summary Of Enzymatic Therapy VariCare
This product contains popular ingredients known to be effective in reducing varicose veins. Although some ingredients are accurately dosed, others fall short. There is also no supportive external treatment to complement this product; this may inhibit the overall effectiveness. The guarantee is highly limited and there are too few customer reviews available to substantiate claims of efficacy. For these reasons, we do not recommend Enzymatic Therapy VariCare. 
Well researched reviews, from the experts at Research & You.