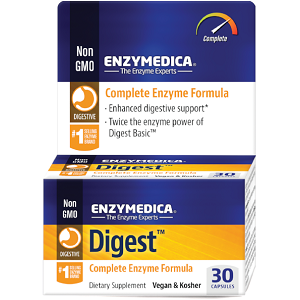 Enzymedica Digest Complete Enzyme Formula - Does It Work?-Review
What is Enzymedica Digest Complete Enzyme Formula?
It is claimed by the manufacturers of this dietary supplement that their product, Digest Complete Enzyme Formula, supports and enhances the digestive system. It is said to relieve digestive discomforts such as gas, irregularity, bloating, and indigestion. These are the common symptoms associated with Irritable Bowel Syndrome or better known by the acronym IBS.
Ingredients & How It Works:
Amylase Thera-blend (12 000DU)
Protease Thera-blend (42 000HUT)
Glucoamylase (25 AGU)
Cellulase Thera-blend (1 250 CU)
Lipase Thera-blend (1500 FCCFIP)
Alpha Galactosidase (125 GalU)
Lactase (500 ALU)
Maltase (150 DP)
Xylanase (250 XU)
Invertase (120 SU)
Pectinase (w/Phytase) (35 Endo-PGU)
Hemicellulase (15 HCU)
Other ingredients in the formula of this dietary supplement are: Vegetarian capsule (cellulose, water). These probiotics work together, offering digestive support by boosting enzyme production, while ensuring regularity. Enzymes supported break down fats, fiber, protein, and carbohydrates. The capsules are free from most allergens, such as gluten, egg, wheat, dairy, yeast, corn, casein, artificial colors or flavors, and soy.
Daily Serving
The manufacturer recommends taking one (1) capsule with every meal. However, more may be taken based on individual dietary needs and lifestyle. This product may be taken by children; those under three (3) years of age, may take half a capsule three times daily.
The Cost
A box containing 30 capsules is available on the manufacturer's website at $11.99. Two other sizes, namely, a 90-capsule and a 180-capsule box are available. No discounts are offered, except on a consumer subscription. Subscribers receive a 20% discount, making the price $9.59 per unit. However, the buyer will be locked into a contract. Funds will be deducted from your credit card each time a product is sent to you.
Guarantee
Irrespective of whether this product was bought direct from the manufacturer or through a third party, this manufacturer does offer a money-back guarantee. Buyers may return a product for a refund within 30 days of purchase, minus the shipping and handling fee costs. No mention is made of whether the manufacturer will only accept unopened bottles.
Our Review Summary Of Digest Complete Enzyme Formula
The symptoms of IBS can affect the quality of your life. Having a dietary supplement product that can deal with such distressing symptoms is therefore a boon. The product under review has certain positive aspects, however, some negative points. On the positive side, the dietary product comes with a 30-day money-back guarantee. It is also safe to use by children, even those under three (3) years, who can take a half dose. There are, however, some concerns. Firstly, the guarantee is unclear, no indication given of whether the manufacturer will allow opened bottles to be returned. More so, the manufacturer does not offer any real discounts (unless you want to be locked into a subscription, with funds being deducted from your credit card on a monthly basis). Lastly, the formula of this product lacks anti-inflammatory agents that are clinically found to soothe the digestive system, such as ginger and peppermint.
Well researched reviews, from the experts at Research & You.