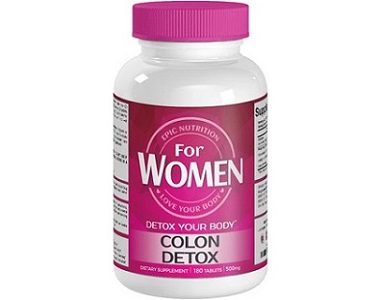 Epic Nutrition Colon Detox - Does It Work?-Review
What is Epic Nutrition Colon Detox?
Read our review below about a supplement called Epic Nutrition Colon Detox, which is specially designed for women. This product is intended to provide support in cleansing the colon, by  detoxifying and restoring bacteria in your colon, improving digestive health, mood, and helps in promoting weight loss within two weeks.
Ingredients & How It Works
Calcium
Proprietary Blend:

Oat seed
Alfalfa seed
Psyllium husk
Lactobacillus acidophilus
Rhubarb root
Gentian root
Buckthorn bark
Bentonite
The ingredients contained in Epic Nutrition Colon Detox help clean the body, promote regularity, restore energy, relieve constipation, and strengthens digestive health.  For instance, Oats is known to be effective in providing relief from digestion problems, including IBS. Alfalfa seed could also be beneficial in relieving upset stomach, but there in insufficient evidence on that claim. Psyllium husk helps with constipation, by increasing the bulk in your stool, which causes movement in your intestines. It also increases water in the stool, making it softer and easier to pass.
Daily Serving
As a dietary supplement, the recommended dosage is 2 tablets, taken with a first meal for the day. If well tolerated, you can take another 2 tablets with the last meal for the day. Take them for 15 days. Do not exceed 15 days.
The Cost
Unfortunately, we could not find out how much this supplement costs because it is not in stock from the retailer that is supposed to be selling it. On their website it is stated that they do not know when and if it will be on stock again. The most unfortunate part is that you can't buy it directly from the manufacturer, and the retailer seems to be the only distributor of the product.
Guarantee
There is no money-back guarantee on this product. That means if it comes back on stock, and you decide to buy it, you will not be able to return it for a refund if you are unsatisfied with the results.
Our Review Summary Of Epic Nutrition Colon Detox
Epic Nutrition Colon Detox could be beneficial in cleansing the colon, improving the digestive system, and promoting weight loss. All the ingredients in it are natural, and most of them are said and are known to be effective in promoting a healthy digestive system. There is more than enough tablets in the bottle for the 15 days if you take two tablets. For instance, 2 tablets a day will take 60 tablets for 15 days. However, the problem comes when you decide to take four per day because you will not have enough for the 15 days, since there is only 100 in the container. Therefore, we think that the manufacturer should not have suggested 4 tables. They should stick to 2 tablets a day to ensure that you have enough. We are worried that this product is not backed by the manufacturer's website, which puts you at risk. there are only four consumer reviews on the third-party retailer's website, and they are negative. There is not even a price that you can compare with other products. For this reason, it is difficult for us to say you should try it, since it does not have the important qualities. 
Well researched reviews, from the experts at Research & You.