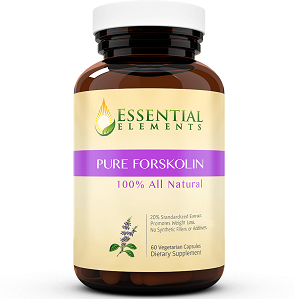 Essential Elements Forskolin - Does It Work?-Review
What is Essential Elements Forskolin?
Forskolin is the one of a handful of nutritional supplements from Essential Elements. A weight loss supplement, the manufacturer claims it is an all natural formula. As a weight loss supplement, Forskolin is one of many hundreds of near-identical products flooding the market. Telling the good from the bad in this surplus can be a challenge. Customers have come up with ways to differentiate the gold from the garbage. This includes an affordable price with a money-back guarantee, positive customer reviews, an easy to navigate website with transparency from the manufacturer, and all natural ingredients. Does Forskolin stand out from the rest and prove itself to be a noteworthy weight loss supplement? Read our review below to find out.
Ingredients & How it Works
The only ingredient is a root extracted from a natural herb called Coleus Forskohlii. It is said to break down fat, halt the production of new fat, and boost metabolism. The supplement contains 20% concentrated forskolin, and each serving is 250mg.
Daily Serving
The recommended dosage on the website is one capsule twice a day before meals. Moderate physical activity is recommended to get the best results. There are no known side effects. Individuals suffering from preexisting medical conditions should avoid Forskolin. A medical professional should be consulted before taking supplements.
The Cost
The manufacturer's website has three options available for purchase. The first option is for a 30 day supply and costs $44.95. The second option is to buy a 90 day supply and costs $119.95. The third option offers a 180 day supply and costs $224.95.
Guarantee
In an effort to show the confidence in their product, Essential Elements provides a 365 complete money-back guarantee, accepting both open and unopened product for return and refund.
Our Summary Review of Forskolin
Nature's Way Forskolin is another weight loss supplement, but it has areas where it stands out from the rest. The 365-day money-back guarantee is very generous, especially compared to many competitors that offer guarantees for less time (or no refunds at all). This indicates how much confidence the manufacturer has in this product. The website has a large amount reputable scientific evidence supporting the product's claims. Lastly, the formula really is all natural, consisting of nothing but a single ingredient with numerous studied health benefits.
That being said, problems with this product do exist. The first problem is the price. For a weight loss supplement with a single ingredient, Essential Elements Forskolin has a price higher than average, costing $44.95 per bottle. The guarantee and promise of free shipping for bulk purchases does somewhat alleviate the problem, but not entirely. Secondly, the website is clunky and difficult to navigate. The online market is heavily competitive. As a result, customers prefer easy to navigate web pages for their online shopping. The Forskolin web page has difficult scrolling, the Frequently Asked Questions seem vague, and the ingredients label on the bottle isn't viewable. Then, there are the reviews that come complete with the customer's photographs. It pushes credulity somewhat to believe that customers sent in a photograph of themselves with their review or agreed, after sending in their review, to do so.
Well researched reviews, from the experts at Research & You.