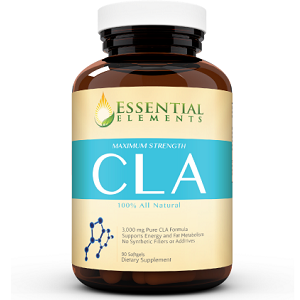 Essential Elements Maximum Strength CLA - Does it Work?-Review
What is Essential Elements Maximum Strength CLA?
In this Essential Elements Maximum Strength CLA review, we will expose all important information about this product so you'll have an easier time deciding whether you should go for this product or choose another one.
This dietary supplement claims to be composed of high quality, 80% concentrated Conjugated Linoleic Acid. This product claims to help burn fat, speed up metabolism, and aid body shaping. The product contains no fillers, binders, additives, artificial colors, or flavors and is made from a vegetarian capsule with no glycerin, gelatin or caramel.
Ingredients & How it Works
This dietary supplement contains CLA, or Conjugated Linoleic Acid, derived from safflower oil. CLA refers to a group of chemicals commonly found in dairy products and meat. Scientists believe that this substance works by lowering the melting point for fat burning. It also appears to keep fat cells from growing by regulating certain enzymes responsible for it. This product contains 3000 mg of CLA standardized at 80%, however, the label also says it contains 2300mg of CLA, so this is not very clear. Other ingredients found in this supplement include:
Gelatin (Bovine)
Purified Water
Glycerin
This product does not contain any binders, fillers, artificial colorings or flavorings.
Daily Serving
The product's website recommends that an individual should take one capsule three times daily, with an 8-ounce glass of water. They also mentioned that you should not go beyond 3000 mg of CLA per day. Those who are pregnant, nursing, diabetic, or have Alzheimer's or dementia should not take Maximum Strength CLA.
The Cost
You can purchase your Essential Elements Maximum Strenght CLA from the manufacturer's website for $49.95 per bottle containing 90 capsules which is good for one month. You can also purchase a 90-day and 180-day supply for $139.95 and $224.95 respectively, plus free shipping. This is more on the expensive side compared to other products.
Guarantee
If you are not satisfied with the product, you can return it within 365 days of purchase. The product's website also states that they're willing to accept both opened and unopened bottles with a limit of two unused bottles per return. A 15% return processing fee will be charged on the total refunded amount.
Our Review Summary Of Maximum Strength CLA
This product seems to be a good product based on the ingredients and the lack of any artificial ingredients. The product also comes with a great guarantee considering that you have a whole year to return the product if you're not satisfied with it. Its high concentration of CLA might also attract buyers. Still, the product's price might be a little outside the budget for most individuals. The product's website states that this product is 100% vegetarian and does not contain gelatin and glycerine, however, the product's label clearly states that this product does include these two ingredients. This makes us wonder about the transparency of the manufacturer.
Well researched reviews, from the experts at Research & You.