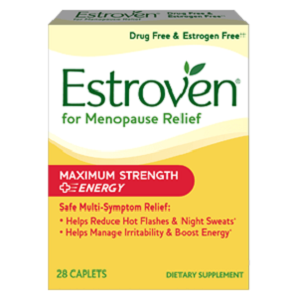 Estroven Maximum Strength and Energy - Does It Work?-Review
What is Estroven Maximum Strength and Energy?
Today, the array of menopause relief supplements is scary. Different products out there all promise to make your transition to menopause easy and painless. Let us remember that menopause is not a disease, but its symptoms surely feel like a condition. Estroven Maximum Strength and Energy is one of those menopause relief supplements that promise to deal with the many menopause symptoms. First, menopause or peri-menopause is not the same for any two women; Estroven believes that creating a formulation that increases energy production during menopause is the best approach. The ingredients constituting this herbal formulation will also soothe hot flashes, occasional sleeplessness, night sweats, irritability, and fatigue. Read our review to learn more about Estroven.
Ingredients & How It Works
Black cohosh - 80 mg
Magnolia bark - 15 mg
Green tea - 100 mg
Yerba mate extracts - 30 mg
Soy Isoflavones - 60 mg
Calcium as dicalcium phosphate - 90 mg
Other ingredients
Titanium dioxide (color)
Magnesium stearate
Polyethylene glycol
Silicon dioxide
Hydroxypropyl methylcellulose
Silicon dioxide
Croscarmellose sodium
Microcrystalline cellulose
Riboflavin (color)
Stearic acid
Magnolia bark is good for reducing irritability and also stabilizing mood. Soy Isoflavones are rich in phytoestrogens that bind to estrogen receptors thereby reducing the intensity, severity, and frequency of night sweats and hot flashes. These phytoestrogens also reduce vaginal dryness. Black cohosh is famous for its ability to relieve many "female problems" ranging from PMS to menopausal symptoms. Green tea and yerba extracts help in boosting energy and keeping fatigue at bay.
Daily Serving
The recommended dosage is one caplet once a day. To experience the best of Estroven, take it for at least 60 days.
The Cost
You can't buy this product directly from the manufacturer's website, but they have provided you with a list of stores to purchase from, both online and local. You can buy Estroven from Walgreens for $21.49. The manufacturer allows you to get coupons for discounts by signing up to their website.
Guarantee
We did not find any consumer satisfaction guarantee. However, we found some positive testimonials, vouching for the product.
Our Review Summary Of Estroven Maximum Strength and Energy
Menopause no longer needs to be daunting. Supplements are there to make life easier. Estroven Maximum Strength and Energy seems to contain ingredients that prove effective in managing menopause symptoms. The testimonials we found also attest to its effectiveness.
However, as black cohosh functions like estrogen, research warns that it could as well have the same risk associated with estrogen therapy. As such, experts recommend that products containing black cohosh should come with a caution statement, something that Estroven fails to mention. Black cohosh also has some adverse side effects such as lethargy, jaundice, and stomach-related issues. Estroven does not have a certificate of GMP. We found that concerning since quality and safety should always be a concern. We also found it troubling that Estroven does not come with a consumer satisfaction guarantee. Regardless of the customer reviews, we found it is worth noting that not all supplements work for everyone. As such, having a money-back guarantee secures a customer's investment. Its lack thereof is somehow unsettling.
Another thing is that Estroven exists as a range of products. To get the full benefit you may need to buy all their packages. That could be expensive and tedious. Even so, note that there are better menopause relief supplements out there.
Well researched reviews, from the experts at Research & You.