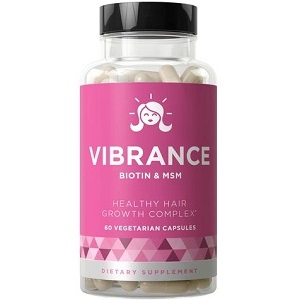 Eu Natural Vibrance Healthy Hair Vitamins - Does It Work?-Review
What is Eu Natural Vibrance Healthy Hair Vitamins?
This is a review of a product called Vibrance Healthy Hair Vitamins. This natural multivitamin contains a blend of 23 vitamins, minerals, and herbs which restore the health of your hair from the inside out. The manufacturers of this product claim that the nourishing properties of the ingredients used in their multivitamin results in hair that is stronger, healthier and looks better than ever before. Additionally, the continued use of this product may even stimulate faster rates of hair growth.
Ingredients & How It  Works
   Vitamin C
   Vitamin D
   Vitamin E
   Thiamine
   Niacinamide
   Vitamin B6
   Folate
   Vitamin B12
   Calcium Pantothenate
   Iron
   Iodine
   Zinc
   Manganese
   Opti MSM
   Bamboo Extract
   L-Cysteine
   L-Methionine
   PABA
   Inositol
   Choline
   Boron
   Piper Nigrum
   Cellulose
   Rice Extract
The combinations of these ingredients increase the overall health of the hair from the follicle to the structure of the hair. The presence of the Biotin, as well as the OptiMSM, revitalizes the hair from the inside out. Although the ingredients included in this supplement may be effective our research seems to indicate that there are too many ingredients included in this supplement which may negatively impact how they are absorbed.
Daily Serving
The manufacturers of this product recommend that adults take 2 capsules daily with water and food. They also mention that the capsules can be opened and the contents can be incorporated into a smoothie. Information available on the manufacturer's website seems to indicate that the consumer will only begin to see the effects of this supplement after it has been used for four to six weeks.
The Cost
This multivitamin is available on a variety of different online stores. The manufacturers offer this product at a retail value of $29.99 for a bottle of 60 capsules which is one month worth of servings. There are additional savings available for individuals who chose to sign up for the companies wellness club.
Guarantee
According to our research people who purchase this multivitamin are entitled to a 90-day money back guarantee. Although it is great that there is a guarantee is available for this product they offer no information regarding the conditions of this guarantee.
Our Review Summary Of Vibrance Healthy Hair Vitamins
In this review of Vibrance Healthy Hair Vitamins, we found that this product can be used to increase the rate of hair growth and improve the quality and appearance of your hair. However, we believe that the excessive amount of ingredients included in this product brings the efficacy of it into question. We were also rather alarmed by the fact that the manufacturer did not include any customer reviews on their website. This immediately made us question their motivations, companies who produce goods which their customers are satisfied with are proud to share their reviews, good and bad, with the world.
Well researched reviews, from the experts at Research & You.