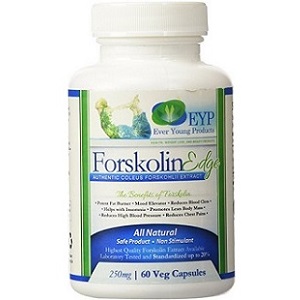 Ever Young Products Forskolin Edge Product - Does It Work?-Review
What is Ever Young Products Forskolin Edge?
In this review, we will be taking a look at one of Ever Young Products herbal supplements called Forskolin Edge. This product aims to assist the body to metabolize stored fats more efficiently. The body then turns these stored fats into energy. This product claims to assist your body to burn calories more efficiently which means that you do not need to exercise as hard or exclude as much food from your diet. Additionally the manufacturers of this product claim that their product may alleviate certain skin conditions such as eczema and cystic acne.
Ingredients & How It Works
This product is made of a blend of Coleus Forskohlii root extract and 20%  standardized Forskolin. These ingredients work together to activate the metabolism to transfer fat out of stores in the body and convert this to energy. We were surprised to note that this product contains no additional additives or preservatives. Additionally, this product appears to meet industry standards regarding its strength and potency.
Daily Serving
We really struggled to find any information regarding the recommended dosage of this product. After a considerable search, we found that it is recommended for you to take two 250 mg capsules. Unfortunately, it was not clear whether or not these should be consumed on an empty stomach or with food. We feel that this is important for the consumer to know as it may affect the effectiveness of the supplement and the manner in which it is absorbed into the body.
The Cost
We were a little confused by the information regarding the price of this product which was available. One section of the manufacturer's website states that you can buy one bottle of this supplement for $49.95. If you look a bit a further you can find various online stores that sell one bottle of this herbal product for about $25 for 60 capsules. There is also no information available regarding discounts for bulk purchases.
Guarantee
The manufacturers of this product offer a 30-day money back guarantee on their product. Unfortunately, the guarantee on the product was not very clear. The manufacturer states that if you are unhappy with the product you can return it but they do not mention if they accept returns of bottles that have already been opened. A large majority of manufacturers only offer refunds on products which are in mint condition.
Our Review Summary Of Forskolin Edge
This product review of Forskolin Edge found that this product was a satisfactory weight loss supplement. We like that this product is only made of natural products and that it is suitable for vegans. Sadly we could find no information regarding the actual price of the product which we found quite suspect. We also found that there was a significant lack of reviews of this product. There was only one highly positive customer review on the website that we could find. 
Well researched reviews, from the experts at Research & You.