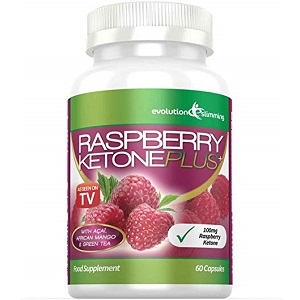 Evolution Slimming Raspberry Ketone Plus - Does It Work?-Review
What is Evolution Slimming Raspberry Ketone Plus?
This is a review of Raspberry Ketone Plus: This supplement is manufactured by Evolution Slimming. This company claims that it enhances adiponectin levels. This provides more energy to burn fat. This product can help the user lose weight and burn fat. Furthermore, it is a good source of antioxidants that assist in maintaining a healthy metabolic rate. In addition, it is claimed that this product may help regulate blood-sugar levels, preventing overeating, and keeping one feeling satiated.
Ingredients & How It Works
Raspberry ketones, African mango extract, acai berry extract, green tea extract (40% catechins / 60% polyphenols/caffeine 8%), caffeine, apple cider vinegar powder, kelp, caffeine, grapefruit pectin, resveratrol. Other inactive ingredients: microcrystalline cellulose, magnesium stearate (vegetable source), HPMC capsule shell. These elements work together to increase the metabolic rate, and reduce hunger cravings, leading to weight loss. It is unclear whether the manufacturer has used pure raspberry ketones or synthetic ketones. Nonetheless, the formula itself consists of various ingredients apart from raspberry ketones. This product is suitable for vegans and vegetarians.
Daily Serving
The manufacturer recommends taking one (1) capsule twice daily, at breakfast, and lunch. This dosage of two capsules provides only 200 mg of raspberry ketone. In clinical studies it was found that, for optimal results, 1000 mg are needed daily.
The Cost
This supplement is available online (direct from the manufacturer). The company offers this product in various package deals, all with a 33% discount. The package deals are divided into one-month's, two-month's, three-month's, and six-month's supply. One-month's supply, or one bottle, costs $ 26,18, while a six-month's supply costs $124,51. However, all orders include a shipping fee of $5,27, as the product is shipped from the UK. This product is also sold on third-party sites such as Amazon. However, on that site it is marked as unavailable. This may be because the product is not very popular.
Guarantee
There is a 30-day money-back guarantee on these products. However, the company does not indicate clearly the terms and conditions of this policy. Information on whether the manufacturer will accept only unopened bottles is not supplied.
Our Review Summary Of Raspberry Ketone Plus
The slimming product Raspberry Ketone Plus seems promising. It is backed by a 30-day money-back guarantee. The manufacturer does offer attractive package deals with discounts which can help a consumer's pocket in the long term. However, it should also be mentioned that there are some issues with this product found by our research. Firstly, the guarantee, although promising, is unclear. The company does not indicate in what state the product should be returned to be eligible for a refund, nor deductions that may be made. The product is shipped from the UK and already attracts a shipping fee. There may be another fee attached if the product is to be returned. Most importantly, this product only provides 200 mg of raspberry ketones daily: scientific studies have shown than 1000 mg is needed daily (thus this product offers 800 mg less).
Well researched reviews, from the experts at Research & You.