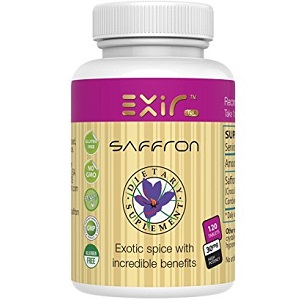 Exir Saffron - Does It Work?-Review
What is Exir Saffron?
Exir Saffron is a supplement which comes in the form of a capsule for daily use to allow its customers to receive the benefits of taking saffron. Saffron is believed by a variety of research is to be a superfood because it provides so many health benefits. We analyze this product and the facts about it to determine if it delivers saffron in the best way possible and at the best value for money.
Ingredients & How It Works
Saffron
Saffron Extract as Safranal
Calcium Carbonate
Modified Cellulose
Vegetable Stearin
Magnesium Stearate
Croscarmellose
Silica
The main ingredients in this supplement are the pure saffron and the saffron extract. The other ingredients really serve to simply pack the supplement in a capsule form. The capsule is made from cellulose which is vegetarian and vegan friendly. Saffron contains a variety of vitamins and minerals which are each important in various biological reactions in the body. A scientific analysis of the vitamins and minerals present in saffron and its extract found that the major components are manganese, vitamin C, magnesium, iron, potassium and vitamin B6.
Moreover, saffron extract has directly been linked to an increase in serotonin levels in the brain. Serotonin is well known as the mood stabilizing hormone and a deficiency of it is the most common cause of depression. Another function of serotonin in the body is the suppression of appetite. The mood stabilizing function is also quite important in this regard because it helps to discourage eating due to emotional distress, commonly known as comfort eating.
There are a variety of claims that this manufacturer makes about the ingredients in this product such as its ability to improve cardiovascular problems, liver problems and vision as well.
Daily Serving
Two or three capsules can be taken daily depending on the need of the customer as long as they are taken at separate times during the day. We found it very unusual though that this supplement only contains 15 mg of saffron and 15 mg of safranal compound in each capsule. Even if taken as the manufacturer describes, it is much less than the optimal dosage which is 400 mg is given by the supplement.
The Cost
One package which contains 120 capsules can be purchased online for $39.00. This price includes shipping. There is no bulk buying discount for Exir Saffron so the long term use of this product will end up being more expensive.
Guarantee
We could not find any evidence of a guarantee for this product. This means that if a customer is unsatisfied with their results they might not receive a refund.
Our Review Summary Of Exir Saffron
The manufacturer provides good information on all of the relevant topics about this product except for the guarantee. The price of the product is quite low but we believe this is because of the low dose of saffron present in this supplement. Despite its low price, it is disappointing that no discount is offered for buying in bulk as this product does require long-term  use to see the benefits.
We also find the directions for use to be a bit ambiguous and not consistent which could cause customers to experience different results depending on how they use the supplement. We also believe a definitive guarantee should be offered on such a product especially if they make such vast claims about its benefits. Overall we believe there are better Saffron extract supplements out there.
Well researched reviews, from the experts at Research & You.