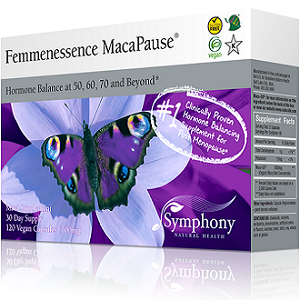 Femmenessence MacaPause - Does It Work?-Review
What is Femmenessence MacaPause?
Femmenessence MacaPause is a menopause supplement that claims to have the world's highest success rate of any natural, menopause-reducing product. It achieves this by supporting your body's production of all hormones. Thus, this product claims to offer relief of night sweats and hot flashes, improve mood and energy levels, promote healthy weight and bodily functions, as well as improve sexual health. In the following review of MacaPause, we shall evaluate the efficacy of these claims by examining the ingredients and assessing the customer support that can be expected if purchasing this product.
Ingredients & How It Works
The only ingredient promoted on the manufacturer's website is their patented Maca-GO, which they claim to bypass the hypothalamus gland and regulate all of the bodies hormones. They claim that only their Vegan Maca-GO can provide effective hormonal balancing for menopause. Maca is known to remedy hot flashes and other symptoms of menopause, so while this patented ingredient is beneficial, there are a number of menopause supplements that can offer the same (perhaps more targeted) relief. Other products include ingredients such as Black Cohosh and Wild Yam. While the website claims their product is more effective than these popular menopause support ingredients, they do not disclose the research to justify these claims.
Daily Serving
The manufacturer's website is unclear on the dosage per use. Since one pack contains 120 capsules and is said to last a month - we can only assume that 4 capsules should be taken per day. Otherwise, there is no indication if these supplements should be taken at regular intervals or with meals. Femmenessence states that significant results are seen after 21 days and optimal results are seen after 3 months of use. Some customer reviews have reported headaches, an irritable gut, bloating, and stomach pain as side effects of use.
The Cost
Prospective customers can purchase a pack of MacaPause online from the manufacturer's website. To purchase a single pack, you can expect to pay $34,99. There is a starter package offer available for first-time buyers, where they can get 4 packs (a 4 month supply) for $104,97 - saving $35 dollars and shipping fees. There are no other discounts available for this product.
Guarantee
Femmenessence offers a 1-day 100% money-back guarantee, which showcases that the manufacturer is confident in the product efficacy. The only condition of the return is that customers need to first speak to, and take the advice of, the femmenessence medical team. This is a free service provided the manufacturer to personalize the dosage and ensure customers can have the opportunity to receive optimal results. This may be a lengthy process and one that a time-sensitive customer may not be willing to go through. There have also been some customer reviews that reported this product as ineffective and resulted in unwanted side-effects.
Our Review Summary Of Femmenessence MacaPause
Femmenessence is incredibly confident in their MacaPause, boasting their key ingredients superiority above other known menopause support ingredients, as well as a lengthy returns policy and 100% guarantee. However, they offer no scientific support as to how their product is more effective than publically studied and supported ingredients. Their returns policy is also lengthy and drawn out. Furthermore, there are a variety of negative customer reviews that reflected unwanted side effects or no effect at all. We recommend rather opting for products with scientifically-backed ingredients that are not only available to the public - but have targeted menopausal symptom relief. 
Well researched reviews, from the experts at Research & You.