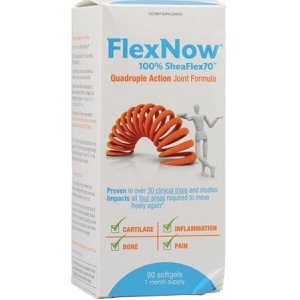 FlexNow 100% Shea Flex 70 Quadruple Joint Action Formula - Does It Work?-Review
What is FlexNow 100% Shea Flex 70 Quadruple Joint Action Formula?
There are many joint health supplements on the market. One of these is 100% Shea Flex 70 Quadruple Joint Action Formula by the manufacturer FlexNow. In this review, this dietary supplement will be examined in more depth. This as the manufacturer claims that this product helps with joint function by reducing inflammation, improving the cartilage retention for a pain free joint and better mobility, to increase bone retention and that this product can reduce pain by 45%.
Ingredients & How It Works. SheaFlex 70
The only ingredient used in this formula is Shea Flex 70. This substance is a complex of shea triterpenes (that comes from the pit of the shea fruit. Shea is a substance used in beauty creams as a moisturizer. However, the shea nut contains a particular substance, namely triterpenes. These elements can reduce inflammation in joints. This as this substance inhibits the protein cytokine (the protein that controls inflammation as well as immune response). Although inflammation is normal, reducing cytokine also reduces pain. In addition, besides reducing inflammation this SheaFlex also assists to rebuild cartilage as well as collagen. By rebuilding these elements, make the joints stronger, thus able to be more resistant to damage. The capsule itself is made of gelatin, therefore unsuitable for vegans and vegetarians.
Daily Serving
The suggested dosage recommendation from the company is to take three (3) capsules ideally together in the morning with food. Alternatingly, the company does state that the three capsules need not be taken at once, and could be taken throughout the day, just as long a regular pattern is followed.
The Cost
This product is available on the maker's website for the purchase price of $59.95. However, this price is for a two month's supply, meaning two bottles, at a 40% discounted rate.
Guarantee
The product's manufacturer does offer a full satisfaction guarantee. However this policy is vague: no mention is made in what condition the product should be returned, and by what time after a purchase was made. The company merely states that the goods can be returned for a return if the company has been contacted.
Our Review Summary Of 100% Shea Flex 70 Quadruple Joint Action Formula
This product has some good aspects such as that it is all-natural with very little changes of allergy side effects. Plus, the company does offer a full satisfaction guarantee on this supplement and the dosage instructions are clear and easy to follow. That said, there are some concerns about this supplement. Firstly, the guarantee itself although it is stated that a buyer can receive a refund, the policy remains vague. No mention for example is made by when this guarantee expires and if the product can be opened or should be sent back as it was brought. Either way, the capsules are made of bovine, thus not suitable for vegans and vegetarians. Lastly, even though the main ingredient offers many health benefits, there are 15 other ingredients that was found in clinical studies to be effective for optimal joint health. Some of these include: L-glutamic acid, L-cysteine, rutin, turmeric, holy basil, ginger, white willow, glucosamine, MSM, chondroitin, boswellia and more. However, this formula contains none of these scientifically tested elements in this product.
Well researched reviews, from the experts at Research & You.