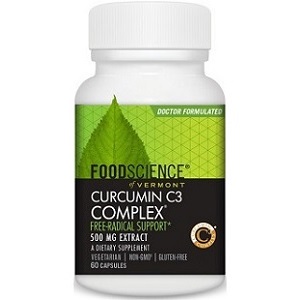 Food Science Of Vermont Curcumin C3 Complex - Does It Work?-Review
What is Food Science Of Vermont Curcumin C3 Complex?
This review is for a product called Curcumin C3 Complex. This is a natural herbal supplement which is naturally found in the spice called turmeric. This product claims to provide the body with support in the detoxification process. Additionally, this product claims to have properties which protect the liver and neutralize the effects of free radicals. Another claim made by the manufacturers of this product is that it can improve liver and gallbladder function and can help manage levels of cholesterol in the blood as long as they are in the normal range.
Ingredients & How It Works
   Curcuma Longa Root Extract
   Bioperine (Piper Nigrum) Fruit Extract
   Vegetable Cellulose
   Microcrystalline Cellulose
   Vegetarian Leucine
This supplement provides a great balance of ingredients which provide support for a variety of systems in the body. This product does contain 5 mg of  Piper Nigrum, which is essential for this supplement to be fully absorbed. However, it does not contain enough for it to be truly beneficial. Many other products that contain similar ingredients contain 20 mg of Piper Nigrum to ensure optimum absorption of the product. We were slightly concerned about the fact that the manufacturers of this product do not mention if there are any additives, preservatives, fillers or binders included in this supplement.
Daily Serving
The manufacturers of this product recommend that you take one capsule with breakfast and one capsule with lunch. This means that total daily consumption of this product equals to 1 000 mg of Curcumin daily. According to our research, this seems to be a relatively good dosage for the average adult to take on a daily basis.   
The Cost
You can purchase one bottle of this product online for $28.10. One bottle of this product contains 60 capsules.  If you consume the recommended two capsules per day one bottle of this product will last you for one month. Once we compared this supplement with similar competing brands we discovered that this dietary supplement is on the expensive side with other products offering better value for your money.
Guarantee
Unfortunately, the manufacturers of this product do not offer any guarantees or return policies for this product. We were rather concerned to discover this a guarantee always reassures us that the manufacturer is confident in their product. The lack of a guarantee also indicates a lack of respect for the customer.
Our Review Summary Of Curcumin C3 Complex
As we completed this review of Curcumin C3 Complex we found a few things that we liked about this product. It has a simple yet effective list of ingredients as well as providing the daily recommended dosage of the active ingredient. However, there were a few things we were concerned about. This product does not contain a high enough dosage of Piper Nigrum which stimulates increased absorption. Additionally, this product does not have any guarantee so if you are unhappy with your purchase you will not be able to return it.
Well researched reviews, from the experts at Research & You.