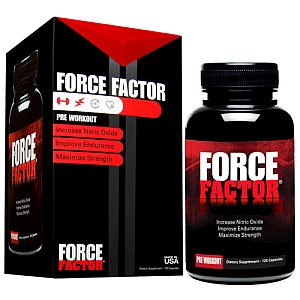 Force Factor-Review
Muscle building and supplements go together, and as more and more people look to build lean muscle, Force Factor is forcing its way up the ladder in the market for supplements. But does the company deliver what it promises? That's the moot question.
About the Product
In a short period of three years on the market, Force Factor's meteoric growth in a competitive market stands out. With a small range of products the company has an uncomplicated strategy of operating within niche areas -- to this end it has updated its flagship offering, with the recent release of an improved version.
How it Works
Force Factor's promise to "make you better, faster, and stronger — period" appears to underscore the company's no-nonsense approach but can it deliver? As ever, you cannot have a muscle building supplement without a celebrity endorsement and who better than the youngest MVP recipient of the league, Chicago Bulls' Derrick Rose?
How Much it Costs
You can expect to pay different prices depending on your product of choice. But the company's flagship product, Force Factor, will set you back by $70, as will its second version, Factor 2.
How You Make it Work
Force Factor does not call for a change of training regimen or lifestyle, if you already adhere to an aggressive one. The product promises to meet your need for enhanced power in a demanding workout. You can see results within a short period of starting out on a fitness regimen provided you effect necessary changes as advised by the company. For instance, you need to avoid junk food and any other indulgences, if you want to see the promised results.
Final Review
Unlike many competitors, the company has prudently avoided spreading itself thin by expanding its suite of products to unmanageable levels, instead focusing on the products that have worked for the promoters, to drive growth: Force Factor - This is the flagship product that set out to help build lean muscle - period. With the enhanced power that comes with it, you can do tougher workouts for longer durations. Nitric Oxide is said to be the secret and the results speak for themselves, undeniable by even the hardest boiled cynics. Force Factor needs ingesting into one's bloodstream before a workout and the effects are discernible during your regimen. Factor 2 - This is an advanced version of the flagship product and does the same thing but only better and faster. Body Rush - This is a supplement to be ingested after your workout that can enhance energy while keeping you focused. It aids quick recovery and is said to help prevent muscle loss when you rest. Multivitamin - This is a signature product from Force Factor. Ramp Up - This can enhance endurance and energy levels while burning fat simultaneously. Glutamine - This can help alleviate joint pain and general inflammation thereby facilitating a faster return to your normal routine. Whey Protein - This is another signature product. Omega 3 - This is a high-quality body-and-brain supplement, Force Factor style. Safety is a prime consideration in body building with several supplement manufacturers notorious for using chemicals in their products aimed at boosting heart rates to make the exerciser "feel" energized. But such supplements invariably get called out and have to be withdrawn from the market. But such product recalls haven't happened in the case of Force Factor during their three years in the trade. When results don't accrue from a muscle building product, it's often attributable to misuse or lethargy; nonetheless such a buyer could call it a scam. Competitors also get in on the act of labeling a product a scam but fail to back up such claims with hard proof. Repeat business is the surest gauge of how effective a product has proved and whether or not it's a thinly veiled scam aimed at taking away people's money from them. Using that measure, Force Factor does score.
Well researched reviews, from the experts at Research & You.