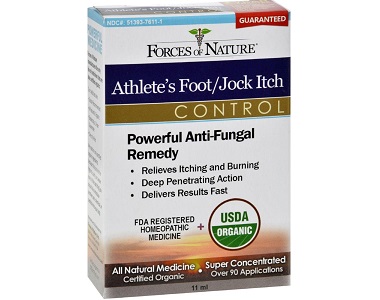 Forces of Nature Athlete's Foot Jock Itch Control -Does It Work?-Review
What is Forces of Nature Athlete's Foot Jock Itch Control?
In this review of Organic Athlete's Foot/Jock Itch Control, we look at it's a homeopathic formula which Forces of Nature has released. It relieves itching and burning commonly associated with athlete's foot and jock itch while diving deep into the skin to fight fungus. It possesses antifungals and skin-health promoting ingredients that restore the skin by initiating the healing process. This product is animal cruelty-free and is quality tested.
Ingredients & How It Works
Primary Ingredients:
Silicea (Silica)
Thuja Occidentalis (Northern White Cedar)
Hydrocotyle Asiatica (Pennyworth)
Other Ingredients:
Pelargonium Graveolens Oil (Rose Geranium Oil)
Eugenia Caryophyllata Oil (Clove Oil)
Melaleuca Alternifolia Oil (Tea Tree Oil)
Sesamum Indicum Oil (Sesame Oil)
Silicea is often used in most over-the-counter medicines for treating toenail fungus, while Thuja Occidentalis is known for reducing skin irritability but interestingly has also been found to be toxic if ingested. Hydrocotyle Asiatica soothes the skin by preventing itchiness. Sesame Oil acts as a transporter for the other oils to dive deep into the skin and sterilize the affected area.
Daily Serving
Clean and dry the affected area well, apply the product thinly over the area three times a day or as instructed by a doctor. The product should be used for a minimum of 4 weeks to treat Athlete's Foot and for Jock Itch, a minimum of 2 weeks. Should the condition persist or worsen, contact a doctor. A warning is also given to avoid using the product for diaper rash.
Children below the age of two must not use this product unless a doctor states otherwise. Those nursing or pregnant should consult a doctor before use.Those with sensitive skin are to be careful when using the product. Should the solution come into contact with eyes, rinse thoroughly with water and seek medical attention.
The Cost
An 11 ml bottle is said to last up to a month and is priced at $14.95.  A 33ml bottle is said to last up to 3 months and costs $34.85. Third party retailers list this product available for one-time purchase, 5% or 15% discounts are unlocked with subscriptions. Subscriptions are definitely to be avoided as there are always hidden costs.
Guarantee
A 1-year money back guarantee stands for the first three bottles. To be eligible for a refund, only one of the bottles may be returned opened.
Our Review Summary Of Forces of Nature Athlete's Foot Jock Itch Control
We like that Forces of Nature Athlete's Foot Jock Itch Control wields some positive feedback and the fact that it is a certified animal cruelty-free.However, through thorough research, we noticed that an active ingredient proven to be successful in treating Athlete's foot, Undecylenic Acid, is completely lacking from the Forces of Nature formulation. We also found out that the manufacturer has discontinued releasing the product with a rubber dropper bulb which makes applications easier. The manufacturer also does not give advice to the user to first test a small amount of the product should the user have sensitive skin.We recommend Athlete's Foot and Jock Itch sufferers to consider alternatives.
Well researched reviews, from the experts at Research & You.