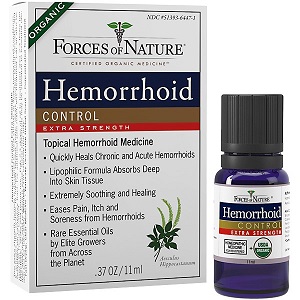 Forces of Nature Hemorrhoid Control Extra Strength-Review
What is Hemorrhoid Control Extra Strength from Forces of Nature?
Forces of Nature says that its Hemorrhoid Control Extra Strength is the only certified all natural product shown to successfully treat hemorrhoids. It uses therapeutic-grade witch hazel oil and the company boasts that the product delivers immediate relief from sore or burning hemorrhoids.
The manufacturer also boasts that a doctor-developed combination of plant-based ingredients works in harmony with your body to promote healthy tissue growth and a stronger, less reactive system.
The oil alleviates pain from the first application and shrinks hemorrhoids in as little as three days. The product is made from plant based certified 100% organic ingredients grown on the islands of Madagascar and Cyprus. The manufacturer says that it can also help prevent future outbreaks. This means that it is vegan friendly and can be used by people who may be concerned about lactose or gluten issues; even though, it is only applied externally. Its Lipophilic formula absorbs deep into skin tissue, where it works on a cellular level to promote healthy tissue growth and a stronger, less reactive system.
Ingredients & How It Works
Forces of Nature states that it only uses ingredients sourced directly from the farm and which are certified as organic and are therapeutic grade plant based medicines. But the company does not list the total volume or weight of the different ingredients on its website.
Active Ingredients:
Hamamelis Virginiana (common name: Witch Hazel), provides relief of hemorrhoids that are sore or burning
Aesculus Hippocastanum (common name: Horse-Chestnut)
Inactive Ingredients:
Mentha Piperata Oil (common name: Peppermint Oil), Anti-Inflammatory
Melaleuca Viridiflora Oil (common name: Niaouli Oil), Promotes Healthy Skin
Cupressus Sempervirens Oil* (common name: Cypress Oil), Promotes Relaxation of Muscles
Lavandula Super Oil (common name: Lavender Oil), Calms the System
Pelargonium Graveolens Oil (common name: Rose Geranium Oil), Natural Astringent
Sesamum Indicum Oil (common name: Sesame Oil), Provides Deep Penetrating Action
Daily Serving
Users should place 2-3 drops of oil to the treatment area 2-3 times per day and continue the application until the problem is gone. For external use only.
The Cost
Hemorrhoid Control Extra Strength - 5ml - $14.95
Hemorrhoid Control Extra Strength - 11ml - $29.95
Hemorrhoid Control Extra Strength - 33ml - $64.85
There is free shipping on orders over $49, but no discount off of the suggested retail price is listed for purchasing the product through the company's website.
Guarantee
Forces of Nature offers a one-year money back guarantee for all of its products. However, you need to return the bottle at your own expense and write an explanation of why the product did not work. You also need to include your receipts and there is a limit to three bottles of the given product. The company states also that you may also receive a free upgrade in strength instead of receiving a refund.
Our Review Summary Of Hemorrhoid Control Extra Strength from Forces of Nature
So what is good about Hemorrhoid Control Extra Strength? Well it comes with a money back guarantee which is always a good sign and it really is all natural. It is not made from chemicals in a lab.
But Forces of Nature offers no evidence that the product really works. And its main ingredient is witch hazel oil, which can be acquired separately. Witch hazel oil has been shown to reduce inflammation and skin irritation and it does help to treat hemorrhoids, but there is nothing to show that the listed inactive ingredients included here have any affect. This product appears good, but, we felt that it needed a couple of upgrades to get a higher grade.
Well researched reviews, from the experts at Research & You.