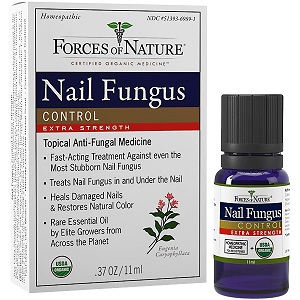 Forces of Nature Nail Fungus Control - Does It Work?-Review
What Is Forces of Nature Nail Fungus Control?
Forces of Nature Nail Fungus Control is an over-the-counter homeopathic medication designed to help clear up nail fungal infections. According to the company that makes it, its organic formula penetrates deep under the nail to get at fungal at their source and is said to help clear up the infection without damaging the skin. In addition it is claimed to promote and encourage healthy skin growth.
Ingredients & How It Works
Forces of Nature Nail Fungus Control contains two organic active ingredients:
Silica - Treats fungus by absorbing moisture and keeping the skin dry. This discourages further fungus growth.
Calendula Officinalis - Helps encourage the growth of healthy skin and encourages quicker healing.
Forces of Nature Nail Fungus Control contains the following inactive ingredients, meant to supplement the effects of silica and calendula officinalis:
Eugenia Caryophyllata Oil
Pelargonium Graveolens Oil
Cymbopogon Citratus Oil - said to be an anti-inflammatory
Melaleuca Alternifolia Oil - said to act as a skin cleanser
Sesamum Indicum Oil - said to allow for deeper skin penetration
Daily Serving
Before using Forces of Nature Nail Fungus Control wash and dry the affected area. Then apply one to two drops of the liquid onto the area and gently rub it into the affected area. Do this three times a day. Make sure to wash hands thoroughly after use.
However, discontinue use if skin becomes red, develops pus or starts to bleed. Consult a doctor after seven days if infection does not improve. Forces of Nature Nail Fungus Control should not be used on children under three years old.
The Cost
The manufacturer offers three different purchase options, by volume. At the time we looked at the website customers could purchase a 5ml bottle for $13.95, a 11ml bottle for $26.95, or a 33ml bottle for $59.85. Orders over $49 receive free shipping. Forces of Nature Nail Fungus Control can also be purchased from third-party website, such as Amazon or Walgreens. However, it can be more expensive. Amazon offers an 11ml bottles for $30.51. Walgreens offers it for $28.99.
Guarantee
The manufacturer offers a one year, money-back guarantee. Unsatisfied customers can return the product if they do not see the promised results. Refunds will be given after the used portion is returned with proof of receipt. Some customers may receive a free upgrade of product strength (although it's not clear exactly what this means) instead of receiving a refund.
Amazon customer reviews were too few at the time of writing for us to conclude anything from them. The handful that were there were generally positive.
Our Review Summary Of Forces of Nature Nail Fungus Control
Forces of Nature Nail Fungus Control seems to be an alright fungus treatment. We're all for organic ingredients -- when they work -- that reduce the risk of side effects. However, the manufacturer does caution about possible side effects. We like the fact that it comes with a year-long, money-back guarantee, but then again it's not entirely clear that you'll actually get your money back (rather than a "strength upgrade"). In addition, Forces of Nature Nail Fungus Control is more expensive than other products, perhaps due to its organic formula. While it's relatively easy to apply, having to go through the process three times a day is definitely a commitment. While it is said that results may be seen within a few days, there is no information provided on how long it may take for the product to work completely. There are pluses to this product but the drawbacks prevent us from wholeheartedly recommending it.
Well researched reviews, from the experts at Research & You.