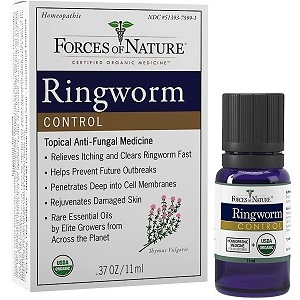 Forces of Nature Ringworm Control - Does It Work?-Review
What is Forces of Nature Ringworm Control?
Today we will review Forces of Nature Ringworm Control. The manufacturer claims that this can relieve itching whilst clearing up ringworm and preventing future outbreaks. This all-natural treatment stimulates the body's defenses to help eliminate the fungus that causes ringworm. Read our review below to find out how Forces of Nature Ringworm Control works and if it is worth trying.
Ingredients & How It Works
Thuja Occidentalis
Silicea
Natrum Muriaticum
Pelargonium Graveolens Oil
Eugenia Caryophyllata Oil
Sesamum Indicum Oil
Melaleuca Alternifolia Oil
Thymus Vulgaris Oil
All ingredients used in Forces of Nature Ringworm Control are organic. These oils combined work deep in the skin where the damaged cells are to strengthen and repair them. This helps prevent the reappearance of ringworm and aids in moisturizing damaged skin to restore it to its normal state. It contains many important oils, however, it lacks the presence of Undecylenic Acid. This is derived from castor oil and is a very effective anti-fungal agent. Lack of this substance may lead to the product being ineffective.
Daily Serving
The affected area must be cleaned and dried properly. The manufacturer then recommends applying a thin layer of the Ringworm Control product over the affected area. This must be rubbed into the skin 3 times a day or as directed by your healthcare professional.
Always supervise children during the use of this product. If the condition does not improve within 4 weeks, consult a practitioner. The product is intended for external use only. If pregnant or breastfeeding, consult your healthcare professional before use of this product. Do not use for diaper rash.
The Cost
Forces of Nature Ringworm Control can be purchased directly from the manufacturer's website. An 11 ml bottle will cost $14.95 and a 33 ml bottle will cost $34.85. Free shipping is offered on USA orders over $39.00. It can also be purchased from Amazon and other resellers. Prices range from $13.99 to $14.95 for a bottle of 11 ml. Bulk packages and discounts are not available.
Guarantee
A one-year money-back guarantee is offered by the manufacturer if you are not 100% satisfied with the product. The manufacturer states that the used bottle with the receipt must be returned for a refund and that one is limited to a refund on only 3 bottles. Forces of Nature Ringworm Control may even send you a free upgrade in strength instead of your refund.
Our Review Summary of Forces of Nature Ringworm Control
There are a few positive aspects about Forces of Nature Ringworm Control. It contains organic oils specifically targeted for the itching and healing of ringworm. They offer a 365-day guarantee which sounds very promising. There are however a few negative aspects as well. An essential anti-fungal agent, Undecylenic Acid is not found in Forces of Nature Ringworm Control, which might indicate that it is ineffective. The manufacturer does not offer discounts on the product or bulk purchases. On returning your product for a refund, the manufacturer states that they might even send you a stronger dose of the same product for free. Customers have no certainty if they will be refunded or sent more of the product. Reviews on Amazon were mixed, however, a few people did say that the product did nothing for them. Due to these reasons of concern, we are unable to recommend Forces of Nature Ringworm Control.   
Well researched reviews, from the experts at Research & You.