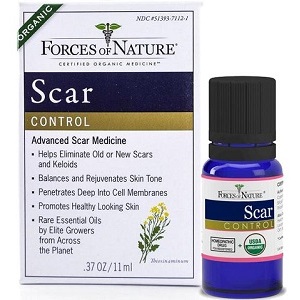 Forces of Nature Scar Control - Does It Work?-Review
What is Forces of Nature Scar Control?
This review is about a product called Forces of Nature Scar Control. It is a product that is designed to help reduce and eliminate old and new scars while promoting healthy and balanced skin. According to the manufacturer, Scar Control is the only organic scar product available. It reduces scars and keloids from surgery or accidents.
Ingredients & How It Works
Calendula Officinalis (Marigold)
Silicea (Silica)
Thiosinaminum (Mustard Seed)
These ingredients help reduce pain, dissolve scar tissue and reduce the appearance of scars and keloids safely. Calendula promotes healthy skin and healing, Silicea reduces pain in the scars and in keloids, and Thiosinaminum dissolves scar tissue. The amount of each ingredient is not indicated, which is not good because this kind of information should be made available to consumers before purchase.

Inactive ingredients: Helichrysum Oil, Rosa Moschata Oil, Rosmarinus Verbenone Oil, Lavandula Super Oil and Sesamum Indicum Oil.
Daily Serving
It is recommended that you simply rub one to three drops into the affected area, three times a day.
The cost
Forces of Nature Scar Control is available on the manufacturer's website and can be purchased for $12.95 per 4 ml bottle. This is a reasonable price and it is a bit cheaper than many similar products that we have reviewed. It is also available in 11 ml and 33 ml, which obviously cost more than the 4 ml. You can also purchase it from various online retailers.
Guarantee
The manufacturer claims that they are aware that health products do not work for everyone. Therefore, they have a one-year money-back guarantee on all their products. This means you have one year from the date of purchase to process your refund. Simply return the used bottle with a receipt for a prompt refund of your purchase.
Our Review Summary Of Forces of Nature Scar Control
Forces of Nature Scar Control seems to be a promising product for reducing and eliminating scars and keloids. The product is sold at a cheaper price than most scar products that we have reviewed so far. The manufacturer is fair, in that they offer a one-year guarantee to allow you to return the product for a full refund if you are unhappy with the results.
Scar Control is organic and safe, which is good. However, we do not like that the manufacturer states that it is the only organic scar product available. This claim is false. There are many other similar products on the market.
Furthermore, even though the ointment is organic, some individuals may be sensitive to essential oils. Therefore, it is not good that the amount of each of the ingredients is not indicated because high amounts may be dangerous for some individuals.
Lastly, we noticed that the inactive ingredients that are contained in this product could contribute to its effectiveness or lack thereof. For instance, Helichrysum Oil relieves inflammation, and Rosa Moschata Oil promotes skin rejuvenation. Therefore, we believe that they should be listed under active ingredients than inactive ingredients. We are worried that most of the information about this ointment is not communicated correctly and there may be other mistakes.
We recommend that you rather look for another essential oil or ointment, for your safety. 
Well researched reviews, from the experts at Research & You.